Wild Weather of 2011: Blame La Niña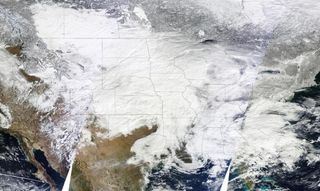 (Image credit: NASA Goddard MODIS Rapid Response Team.)
To say 2011 has been a wild weather year would be a huge understatement. From tornadoes to floods to wildfires, weather records were set across the United States this year, but not in a good way.
This year the United States had a dozen deadly weather events that each caused at least $1-billion in damage, the highest total of any year on record.
Most of the blame for the bad weather was pinned on La Niña, the cyclical system of trade winds that cools the waters of the equatorial Pacific (El Niño is La Niña's warm-water counterpart). La Niña can muck with global weather patterns, recurring every few years and lingering for as long as two years. This year's La Niña was one of the strongest on record.
"La Niña was running rampant during the first half of the year," said Henry Margusity, a senior meteorologist at AccuWeather.com. "Because of the strength of La Niña, it really got the weather juiced up for the big events we had."
There's rarely a smoking gun for bad weather, but as OurAmazingPlanet reported throughout 2011, La Niña was at least partly responsible for much of the year's awful weather.
"With a very strong La Niña like we saw, you got to be ready for the extremes," Margusity told OurAmazingPlanet.
Serious snow
La Niña took most of the blame for the big snows of this past winter. But La Niña did have help from another climate system gone awry. A naturally occurring, semi-periodic reversal of atmospheric pressure patterns and wind direction over the North Atlantic called the North Atlantic Oscillation, or NAO, was in a strong negative phase. That created a blocking pattern off the coast that kept the frigid air in place over the United States.
Large winter storms hit many central, eastern and northeastern states last winter. New York City and other parts of the Northeast got a winter blast just before the new year that caused trouble for flights for nearly a week. [Images: World's Snow Cover from Space]
Chicago was brought to a virtual standstill when 1-to-2 feet (0.3-to-0.6 meters) of snow fell across the city Feb. 2. The city's public schools canceled classes due to snow for the first time in 12 years. The storm caused more than $2-billion in damage and killed 36 people.
When all that snow finally melted, the water surged into the nation's riversand caused historic flooding. The Missouri and Souris rivers swelled beyond their banks across the Upper Midwest, and the Mississippi River saw record flooding farther south.
The wet weather didn't hit where it was most needed though. La Niña winters often see drier-than-normal conditions across the southern tier of the United States and this year saw a historic drought, coupled with devastating wildfires across Texas, Oklahoma and much of the Southwest. August 2011 was the hottest month in Texas's history, with an average temperature of 88.1 Fahrenheit (31.2 Celcius). June to August was also the state's driest summer on record, with only 2.44 inches (6.2 cm) of rain.
Terrible twisters
La Niña was also partly blamed for this year's terrible tornado season. Nearly 1,200 tornadoes struck the United States this year, according to the National Oceanic and Atmospheric Administration (NOAA). Four of these storms were rated at the highest tornado strength, an EF-5, with winds of over 200 mph (322 kph). The death toll from these tornadoes topped 500, a number not seen for a single tornado season since 1953.
But La Niña's blame comes more for what it didn't do during tornado season than what it did do.
La Niña began its exit in late winter, which allowed the jet stream to go rogue, driving winds into the heart of the United States where they violently mixed cool and warm air masses, creating the thunderstorms that spawned killer tornadoes.
The deadliest of 2011's tornado outbreaks struck the central and southern states from April 25-30. The outbreak led to 327 deaths. Of those, 240 occurred in Alabama. The deadliest of the estimated 305 tornadoes in the outbreak was an EF-5 that hit northern Alabama, killing 78 people.
One month later, an EF-5 tornado struck Joplin, Mo., killing at least 141 people, making it the deadliest single tornado to strike the United States since modern tornado record keeping began in 1950. [Tornado Damage Scale in Images]
Not all La Niña events are associated with highly active severe weather seasons, but some years with similar La Niña characteristics are also historic tornado years, including 1974, 1999 ? which saw an EF-5 tornado devastate Moore, Okla. ? and 2008.
This year's record snowpacks also aided the rouge jet stream because it kept the northern air cool, which made for violent mixing with the hotter-than-normal air to the south.
Horrible hurricanes
After tornado season, La Niña crashed, and has been struggling since. La Niña officially ended in early June, but re-emerged, albeit weaker, in early September. La Niña has been linked to increased hurricane activity in the Atlantic basin, and 2011 was an above average year.
The 2011 season saw 19 tropical storms, seven hurricanes and three major hurricanes — including the devastating Hurricane Irene, the only hurricane to strike the United States this year. Irene was the first hurricane to make landfall in the United States in three years. Its billion-dollar damage brought the United States back to the reality of hurricanes after years of quiet. Hurricane season runs from June 1 to Nov. 30.
Even after La Niña passes, its impacts can linger. La Niña can reduce wind shear, which is the contrast between wind speeds at the surface of the ocean and higher up in the atmosphere. Heavy wind shear can break up developing storms.
Low wind shear kept Irene alive for nine days in late August as it pummeled the East Coast. Warm waters in the Atlantic also fueled the storm.
What's in store for 2012?
Could we see a repeat of 2011's wild weather in 2012?
NOAA expects La Niña, which returned in August, to gradually strengthen and continue through the upcoming winter. That means the severe drought should continue though the winter.
As for snow, some forecasters are worried about a blizzard striking the East Coast on Christmas this year, but Margusity isn't convinced because there is no blocking pattern in place right now.
It's too soon to predict the next hurricane season, and there is no pre-season tornado forecast, so forecasters will be keeping close watch on La Niña again in 2012.
You can follow OurAmazingPlanet staff writer Brett Israel on Twitter: @btisrael. Follow OurAmazingPlanet for the latest in Earth science and exploration news on Twitter @OAPlanet and on Facebook.
Stay up to date on the latest science news by signing up for our Essentials newsletter.
Brett Israel was a staff writer for Live Science with a focus on environmental issues. He holds a bachelor's degree in biochemistry and molecular biology from The University of Georgia, a master's degree in journalism from New York University, and has studied doctorate-level biochemistry at Emory University.