Lyme disease: Symptoms, diagnosis and treatment
Lyme disease is an infection that is spread to humans through the bites of ticks carrying specific bacteria.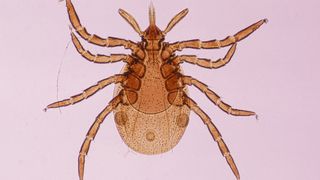 (Image credit: Getty Images)
Lyme disease, also known as Lyme borreliosis, is an infection spread to humans through the bite of blacklegged ticks carrying a type of bacteria called Borrelia burgdorferi, or very rarely, B. mayonii.
Common symptoms include a erythema migrans rash (often shaped like a distinctive "bullseye"), fever, fatigue and headaches. Without treatment, the infection can spread to the heart, joints and the nervous system, according to the Centers for Disease Control and Prevention (CDC).
In the United States, approximately 476,000 people may get this condition each year, according to the CDC.
Although Lyme disease can be caught all year round in the U.S., ticks are most active between April and October. In some locations, up to half of the local tick population can carry B. burgdorferi. Most U.S. states have reported cases of Lyme disease, but states in the Northeast, upper Midwest and Northwest tend to be most affected, according to Johns Hopkins Medicine.
Lyme disease is primarily spread by the blacklegged tick, or deer tick (lxodes scapularis), in the northeastern, mid-Atlantic, and north-central United States, and by the western blacklegged tick (l. pacificus) in the Pacific Coast states, the CDC said.
Related: Your skin should be toxic to ticks. Here's why it's not.
Wormser also recommends bathing within two hours of coming inside after being outdoors. Wearing insect repellant on exposed skin and covering up as much as possible when spending time outdoors can also limit exposure to ticks, he said. If you do spend a lot of time outside, try to avoid walking through tall grass, as ticks tend to live in such areas.
Currently, there are no available vaccines for Lyme disease prevention. However, clinical trials are ongoing and several vaccine candidates have shown promising results, according to a 2022 review published in the journal npj Vaccines. In addition, researchers have developed a preventative antibody-based treatment for Lyme that is expected to enter trials soon.
This article is for informational purposes only, and is not meant to offer medical advice.
Stay up to date on the latest science news by signing up for our Essentials newsletter.