Holiday sale: Read a free issue of All About History magazine and save up to 40% on a subscription
This amazing seasonal sale offer will save you up to 40% on the usual cost of subscribing to our sister magazine All About History.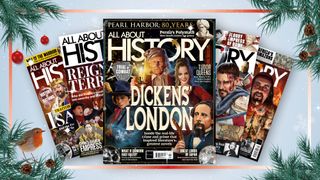 (Image credit: Future)
Whether you have a deep passion for the past or just beginning to study history, our sister publication All About History is the magazine for you. Not convinced? Then you should give the free issue below a look through to see for yourself.
What's more All About History has an incredible Holiday sale offer to share. You can save up to 40% on a subscription.
The magazine is available in print and in digital format compatible with your favorite device. Every issue of All About History is packed with fascinating stories spread across the centuries, from the secrets of medieval courts, to the real lives of ancient civilizations, to incredible stories of bravery and sacrifice in WWII.
There's never been a better time to subscribe to All About History with this Holiday Season sale offer.
All About History is a magazine for history enthusiasts, written by history enthusiasts. It brings you expert information in easily digestible and creative ways, going beyond the lessons you remember from school, supported by wonderful illustrations and design.
Featuring leading historians from around the world, every issue is full of highly engaging tales from the past, new perspectives on history you know and new tales you haven't heard before. Subscribe here to start your journey!

OFFER: Save up to 40% on All About History subscriptions

All About History magazine connects you with people, cultures and events from through history and from across the globe to bring the past to life like never before. From ancient queens to 20th century icons, there's always something new to learn.
Stay up to date on the latest science news by signing up for our Essentials newsletter.
All About History is the only history magazine that is as entertaining as it is educational. Bringing History to life for readers of all ages.