The 'Katrina Effect' Has Residents Fleeing Ophelia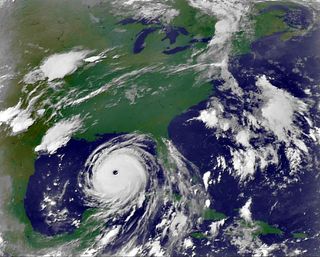 ATLANTIC BEACH, N.C. (AP) -- People along the Carolinas are used to hurricanes. In the past, many have not bothered evacuating in the face of smaller hurricanes. But with the not-so-powerful Ophelia lingering offshore in the emotional wake of Hurricane Katrina, jittery nerves have residents scattering this time.
More of the exposed Outer Banks chain of island was ordered evacuated Tuesday as Tropical Storm Ophelia drifted closer to the coast of the Carolinas with pounding surf and a threat of heavy rain.
Rain was scattered along the coast as Ophelia bobbed and weaved slowly to the north-northwest, with its top sustained wind staying at about 70 mph through the morning.
A hurricane warning was in effect Tuesday from Georgetown, S.C., to North Carolina's Cape Lookout, east of Morehead City, the National Hurricane Center said. A tropical storm warning extended north along the Outer Banks from Cape Lookout north to Oregon Inlet.
With many people on edge because of Hurricane Katrina, all residents and visitors were ordered to evacuate Hatteras Island in the Outer Banks on Tuesday, visitors already had been ordered off Ocracoke Island and 300 National Guard troops were on duty. The National Park Service closed the Cape Hatteras lighthouse and the Wright Brothers National Memorial in Kill Devil Hills.
Schools were closed in several coastal counties in both North and South Carolina.
"I don't think I would be human if I said Katrina had no impact on me,'' Wilmington Mayor Spence Broadhurst said after calling for a voluntary evacuation.
Virginia Gov. Mark R. Warner had declared an emergency Monday, putting all state agencies to work preparing for the storm. South Carolina Gov. Mark Sanford called for a voluntary evacuation of oceanfront and riverside areas in the northeastern part of his state.
"This is a serious storm that's got the potential to do a lot of damage and put lives in jeopardy if we don't take it seriously,'' Sanford said.
However, few people heeded Sanford's call.
"If it's bad, of course we'll leave,'' Sandra Hunecutt of Denver, N.C., said at Myrtle Beach, S.C. But "this is our vacation.''
Ophelia's slow, erratic movement made it hard to predict its path, but it appeared to be on a reasonably steady course toward North Carolina, Robbie Berg, a meteorologist at the National Hurricane Center, said Tuesday.
After reaching land, the center's latest long-range models show it veering north and east from North Carolina's Pamlico Sound, potentially crossing the Outer Banks and then moving away from the coast, Berg said. "The center could still pass very near Virginia.''
"When these systems move slowly, we don't always have a handle on exactly where it's going to go,'' he added.
It could regain hurricane strength, forecasters said.
At 11 a.m. EDT, Ophelia was centered about 130 miles south of Wilmington and about 120 miles east-southeast of Charleston, S.C. It was moving north-northwest at 3 mph. A gradual turn toward the north expected during the night or on Wednesday, but continued erratic motion was likely, the hurricane center said.
Instead of going out to sea, Don Pierce, who runs Blue Marlin Fishing Charters out of Carolina Beach, south of Wilmington, spent the morning working on a friend's boat in Wrightsville Beach.
"I was in Carolina Beach earlier and it was pouring buckets and blowing about 30 (mph). We're getting those outer bands of this storm right now,'' he said. "It looks like it's coming in slowly, ever so slow.''
Ophelia became a tropical storm Wednesday off the Florida coast and later strengthened to a hurricane. It is the 15th named storm and seventh hurricane in this year's busy Atlantic hurricane season, which began June 1 and ends Nov. 30.
Deadliest, costliest, busiest months, worst states, plus this year's storm names and more.
The science of monster storms.
Katrina Gallery
Hurricane Gallery
Stay up to date on the latest science news by signing up for our Essentials newsletter.