Art Boosts Alzheimer's Patients' Spirits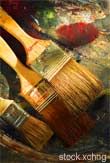 (Image credit: stock.xchng)
DENVER (AP) -- Not a word is spoken as five aging artists sit at a table in a small room and draw. Talking is discouraged, since it can be distracting: The artists are Alzheimer's patients in the first stages of the dementia disorder that afflicts an estimated 4.5 million Americans.
One patient, Jim Lash, 83, isn't moving. His brush is still.
"He was hung up. I suggested he go on to another part of it,'' said aide Jeanne Hill, and he did.
Getting Alzheimer's patients to sit for 45 minutes is a challenge under any circumstances and for some of the artists the choice of colors has to be limited.
The group is part of the Memories in the Making program that began in 1988 in Orange County, Calif. There are now dozens of chapters in 26 states and experts say the artwork has provided an extraordinary outlet for Alzheimer's patients.
"One of the things that emerged was that even with the loss of memory the capacity for imagination still has it place,'' said Dr. Gene Cohen, the director of the Center on Aging, Health & Humanities at George Washington University who has studied the effect of art on people with Alzheimer's.
"Art is a wonderful activity that taps into imagination,'' Cohen said. "That is one reason there has been increasing attention to art for people with Alzheimer's. Even as memory fades the imagination has the capacity to be robust.''
The illness affects parts of the brain that control thought, memory and language. Its cause remains unknown and there is no cure, though some drugs can slow the illness in its early and middle stages.
There is research that suggests artwork helps Alzheimer's patients. A small study last year of 12 people, ages 65 to 85, found that weekly sessions helped Alzheimer's patients focus their attention for 30 to 45 minutes and that completing artwork brought them "pleasure and satisfaction.''
"This was particularly encouraging, given that most individuals with dementia have difficulty with attention and concentration and are unable to initiate, maintain, or complete a task without assistance and cueing,'' according to the study led by Clarissa Rentz, program director for the Cincinnati chapter of the Alzheimer's Association, and Jennifer Kinney, a gerontology expert at Miami University of Ohio.
The only activity that comes close to helping Alzheimer's patients the same way is music, the researchers said.
There is no indication the good feelings last, but few dispute the benefits of the art therapy.
"It is an opportunity to express themselves even after some of their standard human communications abilities of expression have gone,'' said Peter Reed, director of care services for the Alzheimer's Association.
Just being around people brings a smile to Lash, who can remember the day he went to work as a paper hanger -- the same day Wendell Wilkie was nominated for president by the Republican Party in 1940.
"It's annoying that I can't remember the names of people I met six hours ago,'' said Lash, who produced two small watercolors of lions.
"It's better than sitting home and just doing nothing,'' he said.
For those who have problems carrying out movements, facilitators will use a hand-over-hand technique, which guides the artist so he or she can do it on their own. Volunteer aides can help artists identify objects and provide the words to help them express their feelings.
For retired Army officer Alex Zenz, 78, artwork is "an escape.''
"I can do what I want to do,'' Zenz said as he drew a copy of Robert Campaign's "Master of Females'' from a book.
Zenz's wife, Dolores, said art is "a way for him to let out steam. He had a number of tough years in the military, in Korea and Vietnam.''
The paintings and drawings of Alzheimer's patients like Cohen and Lash sell at Memories in the Making-led auctions throughout the country, helping fund efforts to fight the disease.
"I really like what I am doing,'' Lash said. "I always say that if I can see anything I can draw it.''
Stay up to date on the latest science news by signing up for our Essentials newsletter.