Meteorologist Aims to Predict Any Way the Wind Blows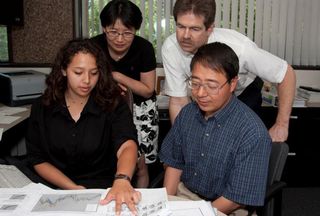 (Image credit: Carlye Calvin, University Corporation for Atmospheric Research (UCAR))
This ScienceLives article was provided to LiveScience in partnership with the National Science Foundation.
Understanding weather processes not only contributes to scientific and technological innovation, but it can also save lives. Bill Mahoney is a program director at the National Center for Atmospheric Research, Research Applications Laboratory (NCAR/RAL) in Boulder, Colo., where he directs weather research and development programs in aviation, surface transportation, social sciences, agriculture, verification, intelligent forecast systems and renewable energy. Mahoney was involved in developing weather-hazard detection systems that are used by airports all over the world and have had a huge impact in reducing the number of plane crashes due to wind shear (a change of wind speed or direction over a relatively short distance or time period, which has been a significant cause of aircraft accidents). Those systems include the Low-Level Wind Shear Alert System (LLWAS) and the Terminal Doppler Weather Radar (TDWR) that each use different processes to detect wind shear in order to decrease the risks for aircraft. Mahoney's recent projects include developing advanced surface transportation weather-hazard detection capabilities and wind-energy prediction technologies. The NSF Green Revolution "Wind" video features Mahoney as he discusses wind energy and its applications, and below, Mahoney answers the ScienceLives 10 Questions.
Name: Bill Mahoney Institution: National Center for Atmospheric Research (NCAR) Field of Study: Atmospheric Science
What inspired you to choose this field of study? I was 12 years old when I made the decision to be a meteorologist. I used to have dreams about tornadoes and severe storms, and in the dreams I would always be the person that knew what was happening and how to save people's lives. Weather is always changing, making it very interesting to study.
What is the best piece of advice you ever received? If you really like something, stick with it! Whenever I would get discouraged in school about math or physics, I would be reminded by my parents and teachers that these topics are part of meteorology and to be a good meteorologist it is important to be good at math and science. It is certainly true and I am happy that I stuck with my decision to go into this career.
What was your first scientific experiment as a child? When I was in elementary school and all through high school, I would record the daily weather in my backyard with a basic weather station. For years, I would keep those records. Somewhere along the way, I lost the paperwork, but that was the beginning of my 'scientific' career.
What is your favorite thing about being a researcher? Nearly every day, I receive telephone calls or e-mail messages from people wanting information about how they can use weather information more effectively to improve their company's operations or to save lives. It is a different conversation every day. As a weather researcher, there are many opportunities to study exciting events and try to make things safer for people in the future.
What is the most important characteristic a researcher must demonstrate in order to be an effective researcher? I would say that the most important characteristic is persistence followed closely by organization. It takes a long time to gather data and to figure out the best way to attack a problem.
What are the societal benefits of your research? In my 25 years of doing research and managing weather projects, I have had a lot of opportunities to develop systems that have helped people avoid injury or deaths and to save money by more effectively using weather information. I spent the first ten years developing wind shear detection systems for airlines and the Federal Aviation Administration (FAA) and these systems resulted in a dramatic reduction in plane crashes due to wind shear.
Who has had the most influence on your thinking as a researcher? I have been fortunate to work with many good people. I take the positive things from all of them in consideration when forming my own ideas. I guess you can say that I have had a lot of mentors over the years.
What about your field or being a researcher do you think would surprise people the most? I think that most people under-appreciate the complexity of meteorology and that they don't realize the complex physics, mathematics and computer science capabilities that are required to understand the global weather and generate a forecast. We really have to make difficult predictions with limited information about the atmosphere.
If you could only rescue one thing from your burning office or lab, what would it be? My laptop, since it contains nearly 25 years of data and documents. There is no way I would ever be able to reproduce this information. Most of the data are backed up, but my instincts would tell me to grab the laptop first.
What music do you play most often in your lab or car? That varies greatly depending on my mood and time of day. Most of the time I am interested in listing to movie soundtracks by great composers like John Williams.
Editor's Note: This research was supported by the National Science Foundation (NSF), the federal agency charged with funding basic research and education across all fields of science and engineering. Any opinions, findings, and conclusions or recommendations expressed in this material are those of the author and do not necessarily reflect the views of the National Science Foundation. See the ScienceLives archive.
Stay up to date on the latest science news by signing up for our Essentials newsletter.