Scorpion Venom Tested as Brain Cancer Treatment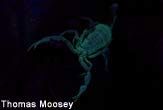 A treatment based on scorpion venom loaded with radioactive material is being tested as a way to kill brain cancer.
If it is shown to work—and skepticism should prevail for now as testing is only in an early phase—the potion would simply be injected into a patient's bloodstream in an outpatient procedure.
About 17,000 U.S. residents suffer high-grade gliomas, a form of brain cancer that is usually fatal. A protein in venom from the yellow Israeli scorpion has been found to bind preferentially to the glioma cells, so scientists have created a synthetic version that does not by itself kill a patient.
In the bizarre treatment, when the venom protein attaches to the glioma cells, the radiation kills them.
The first, early human trials of the venom therapy "showed promising signs for treating tumors," scientists will report tomorrow at a meeting of the Health Physics Society meeting this week in Providence, Rhode Island. The research is being conducted by the Henry Ford Health System in Michigan and other institutions.
The work has not been published in a peer-reviewed journal, however, and initial trials have involved only a few dozen people.
Meanwhile, Richard Bucholz at the Saint Louis University School of Medicine is leading a separate clinical trial to test a similar product that combines scorpion venom with a different glioma-killing agent.
Bucholz's trial, however, involves inserting the drugs through catheters directly to the tumor sites in an effort to avoid possible side effects. Bucholz is also leading two other trials using "smart molecules" other than scorpion venom that are also designed to bind to glioma tumor cells and deliver lethal chemicals.
Today, Bucholz told LiveScience that a couple of patients "have seemingly had good responses," but he cautioned that it is too early to say how well the treatments might work.
"Malignant gliomas cannot be wholly eradicated through surgery or other currently available therapies," Bucholz said. "A safe, effective treatment for malignant gliomas has the potential to increase the life expectancy of thousands of Americans suffering from this terrible disease."
The Biggest Popular Myths
Scorpion Glows in Ultraviolet Light
Stay up to date on the latest science news by signing up for our Essentials newsletter.
Robert is an independent health and science journalist and writer based in Phoenix, Arizona. He is a former editor-in-chief of Live Science with over 20 years of experience as a reporter and editor. He has worked on websites such as Space.com and Tom's Guide, and is a contributor on Medium, covering how we age and how to optimize the mind and body through time. He has a journalism degree from Humboldt State University in California.