Eat Better, Live Longer? Small Food Changes Make a Difference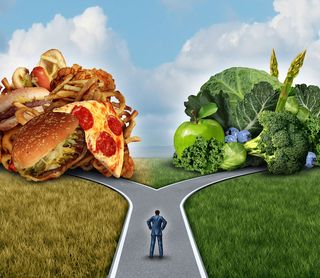 (Image credit: Lightspring/Shutterstock)
Need an incentive to eat healthier? A new study suggests that people who make even small tweaks in their diet to make it healthier over time may live longer.
Researchers found that a 20-percentile increase in people's diet-quality scores was linked with an 8 to 17 percent reduction in a person's risk of death from any cause over a 12-year period, according to the findings published online today (July 12) in The New England Journal of Medicine. A "20-percentile increase" in diet quality means, for example, that a person had an increase of 22 out of a possible 110 points in one of the objective diet scores used in the study.
In practical terms, a 20-percentile increase in diet-quality score can be achieved by swapping out just one serving of meat, which is 4 ounces of red meat or 1.5 ounces of processed meat, for one daily serving of nuts (about a handful) or legumes (about one tablespoon of peanut butter), said Mercedes Sotos-Prieto, the lead author of the study and an assistant professor of food and nutrition science at Ohio University in Athens, Ohio. [How to Eat Healthy in 2017 (and Cut Sugar, Salt and Fat)]
These results are in line with the findings from previous studies that showed a connection between higher diet-quality scores and a 17 to 26 percent lower risk of death from any cause over a given period.
But not everybody is motivated to change his or her eating habits. The data also revealed that when participants' diet quality worsened over the study period, they were 6 to 12 percent more likely to die over the 12-year period than participants whose diet quality did not change.
The results underscore the concept that modest improvements in diet quality over time could meaningfully decrease the risk of death, said Sotos-Prieto, who is also a visiting scientist at the Harvard T.H. Chan School of Public Health in Boston. Conversely, worsening diet quality may increase mortality risk, she said.
For the study, the researchers analyzed data from about 48,000 women, ages 30 to 55, and about 26,000 men, ages 40 to 75. The women were all participants in the Nurses' Health Study, and the men were enrolled in the Health Professionals Follow-Up Study. Both are long-running studies investigating the risk factors for chronic diseases.
All of the participants completed a comprehensive questionnaire at the start of the study and every four years afterward during a 12-year period. This questionnaire asked each participant to indicate how often, on average, they ate certain foods during the past year.
The researchers compared the data from each participant's questionnaire to see how it stacked up against three healthy eating plans recommended by the 2015 Dietary Guidelines for Americans. They calculated three diet scores using this information, with higher scores indicating that a person's diet more closely conformed to the foods recommended by each eating pattern. [5 Diets That Fight Diseases]
One of the plans evaluated was the Alternative Healthy Eating Index, which is composed of foods and nutrients that could reduce chronic disease risk. A second was the Alternative Mediterranean Diet, a style of eating that emphasizes fruits, vegetables, nuts, beans, grains, fish and olive oil. The third was the Dietary Approaches to Stop Hypertension (DASH) diet, which is recommended for reducing blood pressure.
Healthy eating
Previous studies have established that following any of these three healthy-eating patterns is associated with health benefits, but none of those earlier studies looked at what happens when people changed the quality of their diet over time, regarding their subsequent risk of death, Sotos-Prieto told Live Science.
According to the findings, about 6,000 of the women and about 4,000 of the men in the study died over the 12-year period.
The researchers then examined the relationship between changes in the three diet-quality scores they calculated for each participant and the risk of death. But they took into consideration other factors that could influence a person's health, such as age, weight, smoking, physical activity and medical history.
The analysis also found that participants who maintained a high-quality diet over all 12 years had a 9 to 14 percent lower risk of dying, compared with participants who had consistently low diet scores over this period.
Among the three healthy eating plans, no one pattern emerged as a better plan for reducing mortality rates. However, while the Alternative Healthy Eating Index and the Alternative Mediterranean Diet were linked with a 7 to 15 percent reduction in the risk of death from heart disease and stroke, the DASH diet was not linked with any reduction in these risks, the study found.
The researchers suspect that unlike the other two eating patterns, the DASH diet does not include recommendations to include fish or other foods rich in omega-3 fats or a moderate alcohol intake, two strategies that may reduce cardiovascular disease.
It's not necessary for people to conform to a single dietary plan to achieve a healthy eating pattern, Sotos-Prieto said. The essential elements of a healthy diet include higher intakes of fruits, vegetables, whole grains, nuts and beans, and lower intakes of red and processed meats, sugar-sweetened beverages and highly refined grains, like white rice and flour, she said.
Originally published on Live Science.
Stay up to date on the latest science news by signing up for our Essentials newsletter.
Cari Nierenberg has been writing about health and wellness topics for online news outlets and print publications for more than two decades. Her work has been published by Live Science, The Washington Post, WebMD, Scientific American, among others. She has a Bachelor of Science degree in nutrition from Cornell University and a Master of Science degree in Nutrition and Communication from Boston University.