Best Diet of 2012 Is the DASH Diet: New Rankings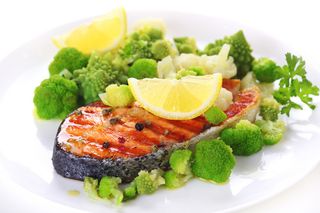 (Image credit: <a href='http://www.shutterstock.com/pic-83807476/stock-photo-grilled-salmon-with-broccoli-and-cauliflower-on-white-plate.html?src=37f377f300e883fb19680d14ac46ab55-1-11'>Healthy meal photo</a> via Shutterstock)
The best diet of 2012 is the Dietary Approaches to Stop Hypertension (DASH) diet, according to new rankings released by U.S. News & World Report.
This is the second year in a row the DASH diet, which aims to prevent and lower high blood pressure, has won the category of "best diet overall."
"While it may have started as a [blood pressure] lowering diet, it really has incredible nutritional value," said Deborah Enos, a certified nutritionist in Seattle and a MyHealthNewsDaily contributor.
Second place was won by the Therapeutic Lifestyle Changes (TLC) diet, which aims to lower cholesterol, and third place went to the Mayo Clinic diet, which focuses on weight loss.
"TLC is another example of a wonderful 'medical' type of diet that has gone mainstream," Enos said. But while it's low sodium requirement means it boosts heart health, it may be difficult for some to follow.
The U.S. News & World Report description of the diet's strengths and weaknesses noted that "The TLC diet takes work and a certain aptitude for reading nutrition labels."
"The easy-to-follow aspect is almost more important than the weight lost on a program," Enos said. Her clients, she said, have a difficult time sticking with diets that are hard to follow. "Now, for my clients who need to lower their cholesterol levels, this is an amazing and necessary diet for them to consider."
The rankings were decided by a panel of 22 experts in diet, nutrition, obesity, food psychology, diabetes and heart disease, according to the magazine's website. The experts rated the 25 diets in seven categories: how easy the diets are to follow, their ability to produce short-term and long-term weight loss, nutritional completeness, safety and potential for preventing and managing diabetes and heart disease. The full rankings were published online today (Jan. 4).
Best diets for weight loss
The top three diets for weight loss are the Weight Watchers diet, the Biggest Loser diet and the Jenny Craig diet, according to the rankings.
"The data show that dieters had the best luck with Weight Watchers for both short and long term weight loss," and the diet ranked highly in terms of how easy it was to follow, Enos said. "The Weight Watchers plan is also the diet that people most often return to — it appears in the article, and in my own experience, to be the diet that people really refer back to over their lifetime."
The experts rated the Weight Watchers diet as a 3.7 out of 5 in the category of easy to follow, whereas the Biggest Loser diet scored a 2.9 in this category, according to the rankings. The Jenny Craig diet scored a 3.6, but fared less well than Weight Watchers in terms of its ability to produce weight loss.
"Let's face the facts of our busy lives, if a program isn't easy to follow, we probably won't," Enos said.
Weight Watchers won the category of best commercial diet plan, edging out the Jenny Craig diet, which relied too heavily on packaged meals and came with a high cost, according to the rankings.
However, when Consumer Reports released its ratings of commercial diet plans in May, Jenny Craig ranked as the winner. Those raters acknowledged criticisms that the diet is hard to follow, but cited a two-year study of 332 people showing that 92 percent of participants stuck with the diet. That study was published in the Journal of the American Medical Association in 2010.
Best diets for healthy eating
The DASH and TLC diets topped the category of best diets for healthy eating, which emphasized nutrional completeness and safety. The Mediterranean diet ranked third.
The data show that the DASH diet offers the best overall nutrition, Enos said. "It has one of the highest levels of B-12 and potassium," she noted, whereas the Weight Watchers plan is low in those nutrients, and recommends that its followers take a multivitamin.
The DASH diet prescribes the number of servings of grains, vegetables, dairy and other food types that a person should eat daily, based on their calorie needs. It suggests high amounts of fiber, potassium and magnesium, and keeps sweets to a minimum.
The diet caps salt intake to the recommended daily values —1,500 milligrams for people who are age 51 or older, African-American, or have hypertension, diabetes or chronic kidney disease; 2,300 milligrams for everyone else.
The DASH diet also won in the category of best diabetes diets, while the Ornish diet, which focuses on low fat intake and emphasizes exercise and stress management, won for best heart-healthy diet.
Pass it on: One panel has decided the best diet of 2012 is the DASH diet, which emphasizes consuming lean protein, fruits and vegetables.
This story was provided by MyHealthNewsDaily, sister site to LiveScience. Follow MyHealthNewsDaily on Twitter @MyHealth_MHND. Find us on Facebook.
Stay up to date on the latest science news by signing up for our Essentials newsletter.

Karen came to LiveScience in 2010, after writing for Discover and Popular Mechanics magazines, and working as a correspondent for the Journal of the National Cancer Institute. She holds an M.S. degree in science and medical journalism from Boston University, as well as an M.S. in cellular biology from Northeastern Illinois University. Prior to becoming a journalist, Karen taught science at Adlai E. Stevenson High School, in Lincolnshire, Ill. for eight years.