Brewing Up a Longer Life: Drink Coffee, Studies Suggest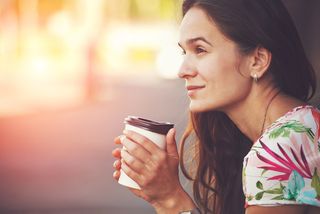 (Image credit: A. and I. Kruk/Shutterstock)
Drinking coffee may do more than help wake you up — it may also help you live longer, two large new studies suggest.
Both studies — one from the United States and the other from Europe — found that people who drank caffeinated or decaffeinated coffee every day were less likely to die over a period of about 16 years, compared with people who didn't drink coffee.
Moreover, the more cups of joe people consumed each day, the less likely they were to die from any cause during the studies than people who were not coffee drinkers, according to the findings, which were both published online yesterday (July 10) in the journal Annals of Internal Medicine. [10 Interesting Facts About Caffeine]
These studies are in line with earlier findings that also showed a connection between higher rates of coffee consumption and a reduced risk of death, the researchers said. However, the previous studies had been done in largely white populations, and there was limited data on whether the effect would be seen in nonwhite populations.
In one of the new studies, the researchers analyzed data collected from more than 215,000 adults in the U.S., ages 45 to 75. Participants included African-Americans, Japanese Americans, Latinos, Native Hawaiians and Caucasians, who lived in Los Angeles or Hawaii and were all enrolled in the Multiethnic Cohort, an ongoing study examining lifestyle risk factors that may cause cancer in minority populations.
People's lifestyle habits, disease risks and genetic susceptibilities to cancer vary widely across different races and ethnicities, so the new finding that again linked coffee drinking with a lower risk of dying offers stronger evidence that coffee drinking is protective and is associated with lower mortality, said Veronica W. Setiawan, the lead author of that study and an associate professor of preventive medicine at the University of Southern California's Keck School of Medicine in Los Angeles.
At the beginning of the study, each participant completed a lifestyle and dietary questionnaire asking them to describe how frequently they drank regular or decaffeinated coffee in the past year. The researchers found that during an average follow-up period of about 16 years, there were about 58,000 deaths among the participants.
The analysis also showed that participants who consumed an average of one cup of regular or decaffeinated coffee a day had about a 12 percent lower risk of death than participants who drank no coffee.
Participants who downed two to three cups of coffee a day, on average, were about 18 percent less likely to die than people who drank no java, according to the findings. The results held true in four out of five ethnic groups studied — all except Native Hawaiians — even after researchers took into account factors that could influence people's coffee habits or their risk of death, such as smoking, alcohol use, physical activity and pre-existing illness. [Extending Life: 7 Ways to Live Past 100]
The mortality rates found in this study are quite comparable to the data from white populations, Setiawan told Live Science. It's unclear why coffee may reduce a person's risk of dying, but the popular beverage has many biologically active compounds that may play a role, because they have antioxidant and anti-inflammatory properties, she said.
European coffee drinkers
Although the American study did not ask the participants any questions about coffee- preparation methods, the other study, which was done in Europe, took this information into consideration. The researchers said they suspected that different preparation methods and drinking customs in different countries could affect people's risk of dying.
For this study, researchers examined data collected from 520,000 men and women, most of whom were ages 35 and older, in 10 European countries (Denmark, France, Germany, Greece, Italy, the Netherlands, Norway, Spain, Sweden and the United Kingdom). All of the participants were enrolled in the European Prospective Investigation into Cancer and Nutrition, an ongoing trial of the relationship between diet and cancer.
Each of the European participants were asked via questionnaire or in an interview about their typical coffee consumption per month, week or day as well as whether they drank caffeinated or decaffeinated versions of the beverage. The study found that participants in Denmark drank the most coffee, while Italians drank the least. [Coffee's Perks: Studies Find 5 Health Benefits]
The researchers also had access to other information about the participants' diet and lifestyle habits, as well as the results of lab tests to evaluate their health status.
During an average follow-up period of about 16 years, more than 41,000 participants died.
The findings revealed that participants who consumed higher amounts of coffee, about three cups a day, had a lower risk of death from any cause than participants who drank no coffee.
Men who drank three or more cups of coffee per day had an 18 percent lower risk of death, compared with men who drank no coffee, said lead author Marc Gunter, the head of the section of nutrition and metabolism at the International Agency for Research on Cancer in Lyon, France.
Women who drank three or more cups of coffee per day had an 8 percent lower risk of death during the study, compared with women who consumed no coffee, Gunter said. Although the size of the effect is not a large one, it's overall health impact on the population could be considerable because coffee is such a commonly consumed beverage, he said.
When the researchers looked at specific causes of death they found that participants who consumed higher amounts of coffee were less likely to die from digestive diseases and circulatory diseases, such as heart attack and stroke.
Similar reductions in people's risk of dying were observed across all 10 European countries, which had different coffee-drinking habits and customs, Gunter told Live Science.
All in all, the findings suggest that moderate coffee drinking, meaning up to three cups per day, is not detrimental to your health, Gunter said. "Incorporating coffee into your diet could have health benefits," he said.
Originally published on Live Science.
Stay up to date on the latest science news by signing up for our Essentials newsletter.
Cari Nierenberg has been writing about health and wellness topics for online news outlets and print publications for more than two decades. Her work has been published by Live Science, The Washington Post, WebMD, Scientific American, among others. She has a Bachelor of Science degree in nutrition from Cornell University and a Master of Science degree in Nutrition and Communication from Boston University.