Coffee Drinkers, Perk Up: 1 to 5 Cups Daily May Reduce Risk of Early Death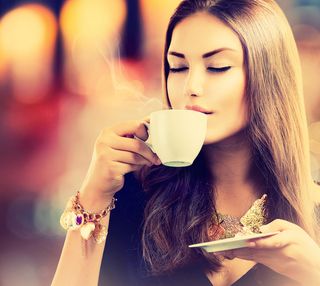 (Image credit: Subbotina Anna | Shutterstock.com)
Coffee drinkers may have more reasons to enjoy another cup, as a large new study suggests that people who drink up to five cups of regular or decaffeinated coffee daily may be slightly less likely to die early from any cause or certain chronic conditions.
Men and women in the study who drank moderate amounts of coffee — one to five 8-ounce cups a day — were found to have a lower risk of dying over a 30-year period from heart disease, type 2 diabetes, neurological diseases and suicide compared with the people in the study who didn't drink coffee, according to the findings, published today (Nov. 16) in the journal Circulation.
The research showed that people in the study who drank coffee moderately lived slightly longer, and had a reduced risk of death from some chronic diseases, compared with the people who didn't drink coffee, said Dr. Frank B. Hu, a professor of nutrition and epidemiology at the Harvard T.H. Chan School of Public Health and a co-author of the study. Other research has established links between coffee drinking and a reduced risk of early mortality, but this new study was one of the largest to show these associations, he said.
The findings also suggest that regular, moderate consumption of coffee is not bad for people, and the study found no evidence that it can cause heart disease or cancer, Hu said. [10 Interesting Facts About Caffeine]
In the study, the researchers analyzed data collected from three ongoing long-term studies. They looked at about 75,000 women in the Nurses' Health Study, who were ages 30 to 55 when the study began; 93,000 women in the Nurses' Health Study 2, who were ages 25 to 42 at the study's start; and about 45,000 men enrolled in the Health Professionals Follow-up Study, who were ages 40 to 75 when the study began.
At the start of all three studies and every four years during them, participants reported how frequently they ate certain foods during the previous year, including their consumption of regular and decaf coffee.
Although moderate coffee consumption was linked with a slightly lower chance of dying during the study compared with not drinking any coffee, high coffee consumption — drinking more than five cups of regular or decaf a day — did not provide even more health benefits and had no influence on mortality rates, the researchers said.
Health perks
Moderate coffee drinking appears to be more healthful than harmful, Hu told Live Science. There are lots of components of coffee — such as antioxidants, the mineral magnesium and other chemical compounds — that may improve insulin sensitivity and reduce chronic inflammation in the body, he said.
It appears to be the other components in coffee, and not caffeine, that may be responsible for the beneficial effects associated with heart disease and diabetes, Hu said. Caffeine may be more likely to play a role in preventing death from neurological diseases and suicide, but this current study did not have enough data to show this effect, he said. Coffee may have an antidepressant effect, Hu noted.
Among all the good news about coffee, the study did find some bad news for coffee drinkers who smoke. When the researchers took into account whether coffee drinkers were smokers, they found that smoking masked the beneficial health effects seen with coffee drinking, Hu said.
For nonsmokers, moderate amounts of coffee seem to have beneficial effects on the risk of many chronic diseases, and this translates into a relatively modest influence on mortality, Hu said.
"The main thing is that moderate coffee drinking doesn't reduce longevity," he said.
Regular consumption of coffee can be included in a healthy diet, Hu said. Still, he doesn't recommend that people start drinking coffee as a preventive strategy to live longer or avoid certain illnesses. Some people are sensitive to caffeine's effects, and children and pregnant women should avoid too much caffeine, he said.
Follow Live Science @livescience, Facebook & Google+. Originally published on Live Science.
Stay up to date on the latest science news by signing up for our Essentials newsletter.
Cari Nierenberg has been writing about health and wellness topics for online news outlets and print publications for more than two decades. Her work has been published by Live Science, The Washington Post, WebMD, Scientific American, among others. She has a Bachelor of Science degree in nutrition from Cornell University and a Master of Science degree in Nutrition and Communication from Boston University.