Uber Rolls Out First Driverless Cars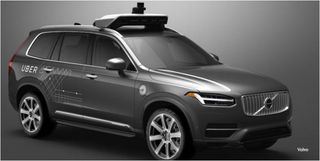 (Image credit: Volvo)
If you've ever driven around in downtown Pittsburgh, you know it's no picnic. In fact, it's whatever the opposite of a picnic is. Thanks to three converging rivers, the downtown area is a tangle of narrow bridges, stacked overpasses and barely sublimated Rust Belt aggression. Pittsburgh drivers are in it to win it.
So it's kind of a surprise that Uber is planning to roll out its first self-driving cars in the heart of Steel City. But that's evidently the plan, according to a recent report at Bloomberg.
RELATED: Tesla May Start Up Autonomous Electric Car Sharing
Starting later this month, Uber customers in downtown Pittsburgh will be able to climb into specially modified Volvo XC90 sport-utility vehicles strapped with dozens of sensors, cameras, lasers and GPS components. The cars won't be completely roboticized — all vehicles will still have a human driver on board to supervise matters and take control if necessary.
Still, it's a Pretty Big Deal. If Uber follows though, the Pittsburgh experiment will be the first driverless car-sharing service to come to market. Uber is partnering with Volvo on the initiative, and the two companies plan to have around 100 self-driving vehicles on the street by the end of the year.
In the first phase of the rollout, the dispatch of self-driving cars will be randomized. Call up a ride with Uber, and you may get one of those souped-up Volvos. If so, your ride will be free of charge. Uber plans to eventually partner with other automakers getting into the autonomous vehicle business, according to the Bloomberg report.
RELATED: 2035: Future Automated Vehicles Will Be On-Demand
The Pittsburgh rollout itself isn't random, however. The city is home to Carnegie Mellon University's Robotics Institute, which has been very busy with autonomous vehicle research. Uber has been hiring experts in the area for the last couple of years. In fact, the upcoming public rollout is just part of an ongoing beta test that Uber's been facilitating on downtown streets for a while now.
Check out the Bloomberg article if you're at all interested in this stuff — it's a lengthy report and there are some genuinely intriguing details. It appears that Uber is going all-in on autonomous vehicles and has hired hundreds of engineers, roboticists and mechanics for the venture. Volvo and Uber hope to have a fully autonomous fleet on the roads by 2021. Go, Yinzers!
WATCH VIDEO: How Safe Are Self-Driving Cars?
Originally published on Discovery News.
Stay up to date on the latest science news by signing up for our Essentials newsletter.