Are Fewer Women in Exercise Studies Because of Their Periods?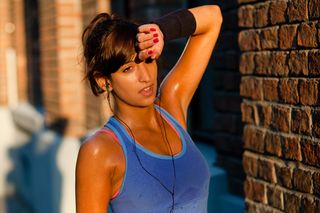 (Image credit: <a href='http://www.shutterstock.com/pic.mhtml?id=82556614'>Workout photo</a> via Shutterstock )
Women are underrepresented in exercise and sports medicine research when compared to men, a new editorial suggests.
One reason may be that women's periods throw things off for exercise researchers: "The complexities of the menstrual cycle are considered major barriers to [women's] inclusion in clinical trials," the authors of the editorial, who are experts in Europe and the United States, wrote in their article, published online today (June 6) in the British Journal of Sports Medicine.
Research on how the menstrual cycle may affect women's exercise training and performance is lacking, said Georgie Bruinvels, a doctoral student in the division of surgery and interventional science at University College London and the lead author of the editorial.
When research is conducted on women who exercise, it is often limited. For example, women are often only tested when they are at a specific phase of the menstrual cycle, typically when hormone levels are low, Bruinvels said. Or, studies may include only women who take birth control pills, and some researchers just completely ignore the possible impact of the menstrual cycle on female study participants in their analysis, she explained. [7 Surprising Facts About The Pill]
"Women athletes have to compete at all phases of their menstrual cycles, yet currently only a snapshot of time is being researched," Bruinvels told Live Science. More studies are needed to evaluate how the cyclical variations in female reproductive hormones may impact physiological processes and women's athletic performance, she said.
For example, women who are ovulating have high levels of estrogen, and this may mean their strength levels are different than they are during the luteal phase of the menstrual cycle, when they have high levels of both estrogen and progesterone, Bruinvels said.
Gender gap
An earlier study also found a gender gap in sports medicine research. In that study, researchers looked at exercise studies published in three major sports medicine journals between 2011 and 2013, and found that 39 percent of all of the participants were women, and 61 percent were men, according to the findings published in the European Journal of Sport Science in 2014. [7 Cancers You Can Ward Off with Exercise]
The reasons for this gender gap are unclear. Historically, all types of medical research — including drug trials — were once exclusively done on men because of concerns over potential damage to a woman's reproductive health, Bruinvels said.
But more recently, as the monthly rise and fall of women's reproductive hormone levels have become better understood, it may have seemed less complicated to conduct exercise research in men than in women, Bruinvels said. In addition, research in men may involve the recruitment of fewer participants, and be less expensive, she speculated.
Research that focuses on women who exercise needs to be encouraged, because men and women are different, said Bruinvels, who is a competitive runner. [7 Ways Depression Differs in Men and Women]
In a study that Bruinvels and her colleagues published earlier this year in the journal PLOS ONE, they found that nearly 42 percent of women who exercise believe their menstrual cycle has a negative effect on their athletic training and performance.
Although this perception exists among female athletes, there has been limited research on the positive and negative effects of women's periods on their performance, the editorial suggests.
The menstrual cycle should not be getting in the way of progress in sports medicine research, Bruinvels said.
"The menstrual cycle is a natural process, yet it is seen as a 'taboo' subject," Bruinvels said. But gathering more evidence and gaining a better understanding of its physiological effects on women could help females to exercise at their best throughout their menstrual cycle, she said.
Originally published on Live Science.
Stay up to date on the latest science news by signing up for our Essentials newsletter.
Cari Nierenberg has been writing about health and wellness topics for online news outlets and print publications for more than two decades. Her work has been published by Live Science, The Washington Post, WebMD, Scientific American, among others. She has a Bachelor of Science degree in nutrition from Cornell University and a Master of Science degree in Nutrition and Communication from Boston University.