Electrifying Drone Race Tests Pilots' Sky-High Skills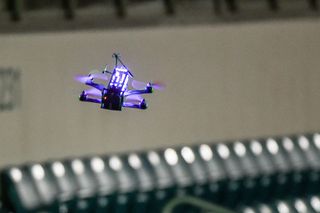 (Image credit: Drone Racing League (DRL))
The buzz of the engine roars as a vehicle launches from its start position, accelerates to high speeds and then banks hard around a corner. This may sound like your typical NASCAR event, but this thrilling race actually takes place on a different course — one that's high in the sky.
The Drone Racing League's semifinals for its first race of the season took place yesterday (Feb. 29) in Miami, where drone pilots from around the world gathered to test their chops on an aerial course that includes navigating tight turns, maneuvering through glowing gates and dodging objects throughout the stadium.
Racing at speeds that exceed 80 miles per hour (129 km/h) at times, the skilled pilots don first-person view (FPV) goggles (that show a video feed of what the drones are seeing) to race custom-built drones through a course that weaves in and out of Sun Life Stadium, home of the NFL's Miami Dolphins. [Photos from Above: 8 Cool Camera-Carrying Drones]
Eight pilots racaed in yesterday's semifinals, a field narrowed from the 12 competitors who took part in the first round. The racecourse required pilots to navigate around the stadium, zooming around bleachers, through concession areas, up a spiraling staircase, and then back around the bleachers again, according to a Drone Racing League (DRL) video about the event.
Each of the pilots raced with a custom-built DRL Racer2 drone that has a carbon-fiber frame to protect electronic and camera components, according to the DRL. The drones were also equipped with ultrabright LED lights to make them easy to identify on the racecourse. When pilots put on their flight goggles, they were able to see a video feed from a camera attached to the drone that helps them direct their machine through the course with handheld controllers, according to the league's website.
After yesterday's race, only the four highest-scoring pilots will continue on to the final round. To obtain the highest score, a pilot needed to pass through two checkpoints and cross the finish line in less than 2 minutes, according to DRL officials. The faster a drone flew through the course, the more points the pilot was awarded.
The Drone Racing League's scoring system awards each pilot 50 points for each checkpoint his or her drone passes and for crossing the finish line, according to league officials. In addition, each pilot is awarded 10 points for every second under the 2-minute time cap he or she posts as a final time, DRL officials added.
You can watch videos of the races on the DRL website and the league's YouTube channel. The DRL finals are expected to take place on March 9.
Follow Elizabeth Newbern @liznewbern. Follow Live Science @livescience, Facebook & Google+. Original article on Live Science.
Stay up to date on the latest science news by signing up for our Essentials newsletter.
Elizabeth is a staff writer for Live Science. Her interests include the mechanics of weather phenomena, quirky animal behavior, natural disasters and recent developments in the world of genetic research. She has a Master of Arts degree from New York University's Science, Health, and Environmental Reporting Program and has a bachelor's degree in geology from Bryn Mawr College. Elizabeth has traveled all over the Western Hemisphere, where she's touched a stingray, traversed the rim of a volcano and watched coral polyps feeding at night. Follow her on Twitter.