Deaths from 'Benzo' Sedatives Quietly Increasing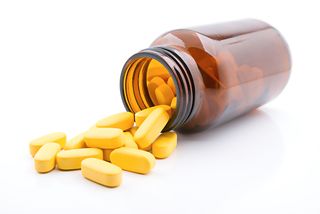 (Image credit: Vucicevic Milos/Shutterstock.com)
Prescription opioids have made headlines for skyrocketing rates of deaths from overdoses, but a new report shows that overdose deaths from another group of medications — sedatives called benzodiazepines — are also increasing.
The researchers found that the death rate in the U.S. from overdoses on benzodiazepines has increased more than fivefold since 1996. Also known as "benzos," the class includes drugs such as Valium and Xanax. The medicines are sometimes used in combination with opioids to treat people with chronic pain.
Overdoses involving benzodiazepines are "a public health problem that has gone under the radar," Dr. Marcus Bachhuber, the study's lead author and an assistant professor at Albert Einstein College of Medicine in New York, said in a statement.
The study also found that "overdoses from benzodiazepines have increased at a much faster rate than prescriptions for the drugs, indicating that people have been taking them in a riskier way over time," Bachhuber said. [5 Surprising Facts About Pain]
In the study, the researchers looked at data on the use of benzodiazepines in the U.S. between 1996 and 2013. They found that the number of benzodiazepine prescriptions purchased over the 18-year time period increased by 67 percent, from 8.1 million prescriptions in 1996 to 13.5 million in 2013.
The researchers also found that the death rate from overdosing on the drugs increased from 0.58 deaths per 100,000 adults in 1996 to 3.14 deaths per 100,000 adults in 2013, which translates into a more than fivefold increase during this time.
The researchers said they don't know for sure what exactly may have caused this increase, but it may have something to do with greater quantities of benzodiazepines being prescribed to patients. People may also be taking higher doses of the drugs per day, taking them for extended periods of time, or getting them from sources other than doctors — all of which can increase the risk of an overdose, they said.
Moreover, the risk of an overdose increases if people combine benzodiazepines with opioids, which are powerful painkillers, said Dr. Chinazo Cunningham, the study's co-author and a professor of medicine at Albert Einstein College of Medicine. Combining benzodiazepines with alcohol also increases the risk of an overdose, she said.
Though the issue of increasing death rates from opioid overdoses has attracted a lot of attention from the media, people should also be aware that "another part of the equation is benzodiazepines," Cunningham told Live Science.
Deaths from these overdoses of benzodiazepines are preventable, the researchers said. The medications are most commonly prescribed to treat people with anxiety, but anxiety can also be treated in some cases with talk therapy, they said.
The new study was published today (Feb. 18) in the American Journal of Public Health.
Follow Agata Blaszczak-Boxe on Twitter. Follow Live Science @livescience, Facebook & Google+. Originally published on Live Science.
Stay up to date on the latest science news by signing up for our Essentials newsletter.