Anti-Vaccination Websites Use 'Distorted' Science, Researchers Find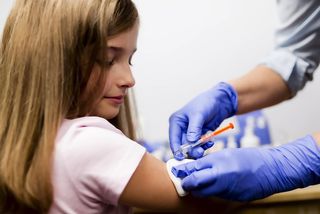 (Image credit: gorillaimages/Shutterstock)
Many websites that promote unscientific views about vaccinations use pseudoscience and misinformation to spread the idea that vaccines are dangerous, according to a new study.
For example, of the nearly 500 anti-vaccination websites examined in the study, nearly two-thirds claimed that vaccines cause autism, the researchers found. However, multiple studies have shown that there is no link between vaccines and autism.
About two-thirds of the websites used information that they represented as scientific evidence, but in fact was not, to support their claims that vaccines are dangerous, and about one-third used people's anecdotes to reinforce those claims, the scientists found.
Some websites also cited actual peer-reviewed studies as their sources of information, but they misinterpreted and misrepresented the findings of these studies.
"So the science itself was strong, but the way it was being interpreted was not very accurate," said study author Meghan Moran, an associate professor in Johns Hopkins University Bloomberg School's Department of Health, Behavior and Society. "It was being distorted to support an anti-vaccine agenda." [5 Dangerous Vaccination Myths]
In the study, the researchers looked at websites with content about childhood vaccines. They used four search engines to find the sites — Google, Bing, Yahoo and Ask Jeeves — and searched for terms including "immunization dangers" and "vaccine danger" as well as other phrases. Their final sample of 480 anti-vaccination websites included a mix of personal websites, blogs, Facebook pages and health websites. The researchers examined the content of the websites, looking for vaccine misinformation, the sources of the misinformation and the types of persuasive tactics that the sites used to convince people that vaccines are dangerous.
In examining the websites, the researchers also observed a lot of misunderstanding and misinterpretation of epidemiological principles, Moran told Live Science.
For example, epidemiologists know that correlation does not imply causation. "Just because two things happen at the same time, that doesn't mean that one is causing the other," Moran said. But some of the websites presented timelines that showed that, as rates of immunization went up over a certain period of time, so did autism diagnoses, Moran said.
Although it is true that both have increased over the same period, the anti-vaccine websites frequently implied that "it must be that the immunizations were causing autism, which we know is not true," Moran said.
Another tactic commonly employed by the websites in the study was the use of anecdotes and stories of parents of children with autism, the researchers said. Because such stories are easy for other parents to connect to, they help to make the anti-vaccine agenda that these sites are promoting appear "a lot more vivid and powerful," Moran said.
Some of the sites also included information promoting positive health behaviors, the researchers said. For example, 18.5 percent of them promoted eating healthy, about 5 percent promoted eating organic food and 5.5 percent recommended breast-feeding.
The biggest takeaway from the findings is that researchers and health officials "need to communicate to the vaccine-hesitant parent in a way that resonates with them and is sensitive to their concerns," Moran said in a statement. "In our review, we saw communication for things we consider healthy, such as breast-feeding, eating organic, the types of behavior public health officials want to encourage. I think we can leverage these good things and reframe our communication in a way that makes sense to those parents resisting vaccines for their children."
The new findings were presented today (Nov. 3) at the American Public Health Association's Annual Meeting in Chicago.
Follow Agata Blaszczak-Boxe on Twitter. Follow Live Science @livescience, Facebook & Google+. Originally published on Live Science.
Stay up to date on the latest science news by signing up for our Essentials newsletter.