Breast Milk Sold Online May Not Be 100% Human Milk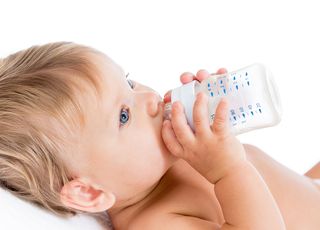 (Image credit: Oksana Kuzmina/Shutterstock.com)
Buying breast milk online in order to nourish a baby with important nutrients that are not available from formula may not always be the safest choice, a new study suggests.
Researchers found that one in 10 samples of breast milk that they bought over the Internet and tested contained genetic material from cow's milk. They said it was likely that the cow's milk was intentionally added to human milk, to stretch its volume.
"Purchasing breast milk online is not a good idea and introduces too many risks for infants," said lead author Sarah Keim, a principal investigator at the Center for Biobehavioral Health at Nationwide Children's Hospital in Cincinnati.
Giving babies breast milk that contains even small quantities of cow's milk could be harmful because some infants may have problems tolerating cow's milk, or they might have an allergy to cow's milk protein.
Cow's milk itself is not a risky substance, but pediatricians strongly advise against giving it to infants under 12 months of age, Keim told Live Science. [Video: 5 Breastfeeding Myths Debunked]
In the study, published online today (April 6) in the journal Pediatrics, the researchers obtained 102 samples of breast milk purchased from "milk-sharing" sites for anywhere from 50 cents to $3 per ounce, Keim said.
The analysis found that 10 percent of the breast-milk samples tested contained bovine DNA, meaning it was not 100 percent human milk but rather was tainted with cow's milk products.
The researchers noted that their analysis was not able to determine whether the adulterated breast milk contained cow's milk itself or another product, such as cow's-milk-based infant formula.
The researchers estimated that 10 of 11 adulterated breast-milk samples contained at least 10 percent cow's milk.
Shopping for breast milk
Keim said that cow's milk was found in more breast-milk samples than she had expected. But she also said that nothing surprises her anymore when it comes to the quality of breast milk sold online.
She and her research team have done several other studies of breast milk purchased on the Internet, and those analyses have found high bacterial counts in samples bought online that may be a result of poor collection, storage or shipping practices.
When breast milk is exchanged for money, the seller may have different motivations than a woman who may donate her extra milk to a breast-milk bank or share it with a friend or family member without receiving payment, Keim said.
Women may turn to the Internet to buy breast milk from strangers if they can't produce enough milk to meet their infants' needs or if they have adopted a baby. Milk-sharing websites contain thousands of listings fromwomen who want to buy, sell or donate their breast milk, and these classified ads may even include personal information promoting the sellers' diet and lifestyle habits (i.e., vegetarian, nonsmoker, eats organic, no alcohol).
Although these websites post suggested guidelines for women about safely collecting, storing and shipping breast milk, they don't test the breast milk itself or screen the participants. Unlike breast milk sold online, human breast milk banks, which supply breast milk for sick babies, have stringent criteria for donors and even pasteurize human milk.
Keim said that the current generation of new mothers seems more interested in nursing their babies than previous generations, but she added that mothers who are having difficulty breast-feeding or who are not making enough milk may not always get timely lactation support.
Changing attitudes
Renee Sullivan — founder and director of The Moms Groups, which are support groups for new and expectant moms in the New York metropolitan area — said that, although buying breast milk online was once a popular conversation in her groups between 2008 and 2012, there has been dead silence on the topic in the past few years. She considers buying breast milk online a risky proposition.
Sullivan, a parent and lifestyle coach who was not involved in the research, said she's seeing a new motherhood landscape these days that may lessen women's desire to purchase breast milk via the Internet.
She pointed out several major trends that may be reducing some mothers' motivation to breast-feed and also dramatically changing their attitudes toward buying breast milk online.
One of these trends is that breast pumps are now typically covered by health insurance plans, making them more widely available to nursing mothers who need them. Sullivan has also noticed that a fear of germs is frequently coming up in conversations in her groups, so she suspects this fear would make mothers hesitant about purchasing breast milk from someone they didn't know.
Although Sullivan breast-fed her own son, she told Live Science that some new mothers in 2015 are feeling less pressure to breast-feed than in years past.
It's human nature for a mother to want to give her absolute best to a child, some women are deciding it's OK to exclusively nurse for a shorter period of time and give their infants formula because they need to return to work, Sullivan said.
Follow Live Science @livescience, Facebook & Google+. Original article on Live Science.
Stay up to date on the latest science news by signing up for our Essentials newsletter.
Cari Nierenberg has been writing about health and wellness topics for online news outlets and print publications for more than two decades. Her work has been published by Live Science, The Washington Post, WebMD, Scientific American, among others. She has a Bachelor of Science degree in nutrition from Cornell University and a Master of Science degree in Nutrition and Communication from Boston University.