Super Typhoon Shoved Car-Size Boulders Onto Philippine Beaches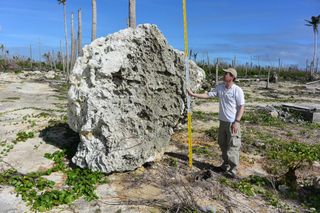 (Image credit: Andrew Kennedy)
SAN FRANCISCO — Boulders the size of stretch limousines littered beaches near the city of Tacloban in the Philippines after Super Typhoon Haiyan pounded the region in November 2013.
The towering stones provided a rare look at the way intense storms can demolish coastal communities, researchers said here on Tuesday (Dec. 16) at the American Geophysical Union's annual meeting. The surprising findings: freak waves that were as powerful as tsunamis shoved the enormous limestone rocks.
"If we didn't know this occurred from a typhoon, people would have started drawing tsunami maps," said Andrew Kennedy, a coastal engineer at the University of Notre Dame in Indiana who counted hundreds of boulders during a damage survey soon after Haiyan hit. "There are so many, and they went so far." [8 Terrible Typhoons]
On Calicoan Island in the country's Eastern Samar province, the storm transported scores of giant rocks, some traveling from the ocean nearly 600 feet (180 m) inland, and carried uphill 33 feet (10 m), Kennedy said.
On islands in southeast Samar, where the storm made landfall, smaller chunks of limestone were plucked from offshore coral reefs and tossed onto the beach, said Max Engel, a coastal scientist at the University of Cologne in Germany, who conducted a separate damage study. These "small" rocks measured between 13 to 33 feet (4 to 10 m) in size.
While storm-driven boulders aren't new to science, the monoliths moved by Haiyan are the biggest ever transported during a tropical storm, Engel said. In southeast Samar, Engel discovered a 29.5-foot (9 m) long, 180-ton (163 metric tons) boulder that the storm pushed about 150 feet (45 m) along the beach. That stupendous stone dwarfs the boulders previously seen transported during storms in Japan, Jamaica and Australia, he reported. And a 70-ton (64 metric tons) rock was rolled or tumbled the same distance, leaving a trail of dings and dents to mark its path.
"These might be the largest boulders documented so far for recent storms," Engel said.
Super Typhoon Haiyan, called Yolanda in the Philippines, killed 6,201 people in that country, destroyed or damaged nearly 1.1 million houses and displaced more than 4 million people, according to the Philippine government. The typhoon was the strongest ever recorded, with sustained wind speeds reaching an incredible 195 mph (315 km/h).
Robert Weiss, a coastal scientist at Virginia Tech in Blacksburg, modeled Haiyan's waves and storm surge, concluding that rare, tsunami-like waves called infragravity waves were responsible for scattering the huge boulders like they were seashells. This kind of wave forms when ordinary wave sets — the groupings coveted by surfers — merge into one large, long-period wave at steep drop-offs close to shore.
These freak waves can then overtop dunes and race inland as shallow, violent, fast-moving floods, similar to a tsunami. (Distinguishing between rocks dumped by storms and those left behind by tsunamis is nearly impossible without a historical record, the researchers said.) Tsunamis are triggered by sudden underwater earth movements, such as landslides and earthquakes.
A separate modeling study by Kennedy also found that infragravity waves were the likely culprit in moving the rocks in the Philippines.
Haiyan survivors reported that two to three of these extreme waves hit during the storm, and observers caught one wave on video, Engel said.
Infragravity waves were first identified in the 1950s, but they are little known outside of ocean science. And coastal structures are not well-protected against the damaging waves, Kennedy said. For instance, standard design codes don't account for these waves' tremendous power, he said.
"In Hurricane Sandy [which hit the New York area in 2012], a lot of the damage appears to have been caused by these waves," he said.
Follow Becky Oskin @beckyoskin. Follow Live Science @livescience, Facebook & Google+. Originally published on Live Science.
Stay up to date on the latest science news by signing up for our Essentials newsletter.
Becky Oskin covers Earth science, climate change and space, as well as general science topics. Becky was a science reporter at Live Science and The Pasadena Star-News; she has freelanced for New Scientist and the American Institute of Physics. She earned a master's degree in geology from Caltech, a bachelor's degree from Washington State University, and a graduate certificate in science writing from the University of California, Santa Cruz.