Need a Lift? Hitchhiking Robot Makes His Way Across Canada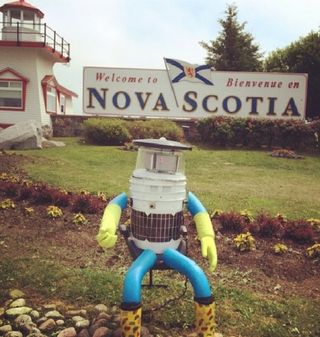 (Image credit: hitchBOT | http://www.hitchbot.me)
If you're driving along Canada's highways, you may encounter a hitchhiking robot with his right thumb out, Wellington boots on and a charming personality — not to mention the ability to tweet, Instagram and update his Facebook profile. Meet hitchBOT.
The little robot, the brainchild of Canadian researchers, is making his way across Canada, relying on strangers to give him a ride. The journey is part of an experiment in both the culture of human kindness and the current state of artificial intelligence technology.
The collaborative art and robotics project aims to explore two diverse issues: the growing utility for social or companion robots, and a growing aversion toward risk and adventure (in Canada at least), said David Harris Smith, a professor of communications at McMaster University in Hamilton, Ontario, and one of hitchBOT's founding fathers. [See photos of the hitchhiking robot on his journey]
"Though statistically safer, Canadians have become much more cautious and worried, evident in the shrinking amount of unsupervised playtime they allow their children," Smith told Live Science in an email. "HitchBOT combines these issues by sending a robot to explore cultural life in Canada, taking the someway risky, but adventurous, approach of hitchhiking across the country."
HitchBOT left Nova Scotia, on the East Coast of Canada, on July 27, and the researchers hope he'll reach British Columbia, on the West Coast, by the end of the summer. Some of the robot's features include one hitchhiking arm that can raise itself, the ability to converse with traveling companions and comfy rain boots for those long hours camped on the side of the road. The bot also boasts an LED screen for a face, a 3G and Wi-Fi network, an audio and visual camera, speech-recognition processing and the ability to share bits of trivia from a Wikipedia database.
HitchBOT has been described as "hardware-store chic," with pool noodle arms, a garbage can hat and a torso made out of a beer pail. HitchBOT also has a "personality" designed by Smith and Frauke Zeller, a professor at Ryerson University in Toronto. The robot's persona includes a "family" of researchers and artists, hobbies (horseback riding, trivia and baking) and a favorite movie, "Wall-E."
HitchBOT has limited speech abilities, but can engage in small talk, apologize that he might be kind of weird and even tell you if he doesn't understand something you said.
"HitchBOT chatters, asking about your favorite music, or what book you are reading — these are strategies to get people talking, so hitchBOT can listen for some key words that it might recognize," Smith said.
As he travels, hitchBOT asks drivers to charge his battery in the cigarette lighters of their cars, and takes 60-second images or videos that are then uploaded to his social media accounts. This way, the robot's "family" in Toronto can track what he encounters on his cross-country journey.
"From a cultural and sociological perspective, hitchBOT might be used to fathom differences in cultural attitudes toward social robotics," Smith said. "We have seen some of this in the social media feeds, which [have] an international audience of over 20,000 followers."
But the project is doing more than simply documenting the kindness of Canadians. Smith said the researchers are also aiming to design low-cost robots that are intuitive in their interactions with humans, have flexible power-supply options, can be integrated with social media and are able to geo-locate, among other features. HitchBOT may also be useful in calibrating the number of wireless services it encounters over the course of the cross-country expedition, since the robot posts its GPS location every 15 minutes.
So far, the response to hitchBOT has been positive, the researchers said.
"Although we planned to create a robot that would be 'approachable' and appealing, we have been deeply impressed by how hitchBOT has been embraced by people of all ages," Smith said. "HitchBOT is receiving artworks and affectionate notes from children."
So, what's next for hitchBOT? The robo traveler is currently outside of Toronto, according to a map on the project's website. Likely, hitchBOT is standing on the side of a road, arm out, awaiting his next ride.
Follow Jillian Rose Lim @jillroselim & Google+. Follow us @livescience, Facebook& Google+. Original article on Live Science.
Stay up to date on the latest science news by signing up for our Essentials newsletter.