More Moles, Higher Breast Cancer Risk, Studies Say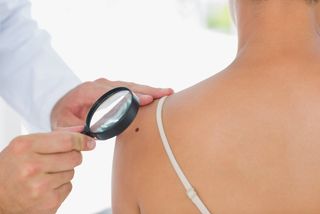 (Image credit: <a href='http://www.shutterstock.com/pic.mhtml?id=180004901&src=id'>Woman with mole photo</a> via Shutterstock)
The number of moles on a woman's skin may offer some clues to her risk of breast cancer, two new studies say.
Both studies, which were large and lasted at least 15 years, found that women with more moles were more likely to develop breast cancer compared with women who had fewer or none of them.
Although a higher mole count is a known risk factor for melanoma, this is the first time that researchers have identified it as a risk factor for breast cancer, said study researcher Jiali Han, an epidemiologist and professor of cancer research at Indiana University's Melvin and Bren Simon Cancer Center in Indianapolis.
Han and his colleagues tracked about 75,000 white women in the U.S. ages 40 to 65 for 24 years, who were taking part in the ongoing Nurses' Health Study. Each woman was asked to count the number of moles on her left arm between her shoulder and her wrist that were one-eighth of an inch in diameter or larger.
After the researchers took into account known risk factors for breast cancer, such as women's ages at their first period, first pregnancy and at menopause, they found that women who had the most moles, 15 or more of them, were 35 percent more likely to be diagnosed with breast cancer than women who had no moles. [6 Foods That May Affect Breast Cancer Risk]
Moles and sex hormones
The second study, which used data collected from nearly 90,000 French women ages 39 to 66 over an 18-year period, asked women to describe the number of moles they had on their skin. Instead of counting them, the women indicated whether they had "none," "a few," "many" or "very many."
The findings showed that women who reported having "very many" moles were 13 percent more likely to be diagnosed with breast cancer than women with no moles. But this modest association did not hold up after the researchers considered the women's family history of breast cancer, and history of benign breast disease.
However, when the researchers analyzed a subgroup consisting of only pre-menopausal women, the data showed that women who described having "very many" moles were 34 percent more likely to have breast cancer than pre-menopausal women who had none.
The findings from both studies are published today (June 10) in the journal PLOS Medicine.
The idea that a mole might be more than a skin feature, and could possibly be a marker of breast cancer risk in women, is based on the relationship between moles and sex hormones.
The number of moles may be a surrogate for sex hormone levels, Han said. A higher numbers of moles reflect higher levels of estrogen and testosterone, he explained.
Moles as markers
The number of moles a woman has is affected by genetics, skin tone and her childhood sun exposure. Mole counts typically reach their peak during puberty.
But moles can also darken or enlarge during pregnancy, when women's hormonal levels are fluctuating, and sex hormone levels also influence breast cancer risk, so the findings in both studies suggest that the number of moles might hint at a woman's chances of developing breast cancer.
Both studies relied on the women's self-reported mole counts. Han said that other research has shown that people are generally good at recognizing moles, and self-reported counts tend to agree with mole counts done by dermatologists.
He also said that counting moles on one arm can be a reliable indicator of the numbers found on the rest of the body.
One limitation of both studies is that the American study only included Caucasian women, while the French study did not collect data on skin color. So, it's unclear whether the findings might apply to woman who are not white.
It's also too early to be using the number of moles as a diagnostic tool during breast-cancer screenings. More research is needed to continue to investigate this new association, Han said.
Follow Live Science @livescience, Facebook & Google+. Originally published on Live Science.
Stay up to date on the latest science news by signing up for our Essentials newsletter.
Cari Nierenberg has been writing about health and wellness topics for online news outlets and print publications for more than two decades. Her work has been published by Live Science, The Washington Post, WebMD, Scientific American, among others. She has a Bachelor of Science degree in nutrition from Cornell University and a Master of Science degree in Nutrition and Communication from Boston University.