'Tomato Pill' May Improve Blood Vessel Function in Some Patients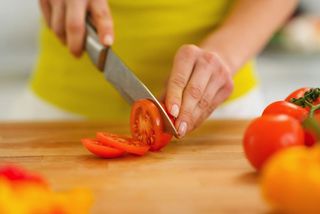 (Image credit: <a href='http://www.shutterstock.com/pic.mhtml?id=135236303&src=id'>Shutterstock</a>)
Taking a daily supplement of lycopene — a compound found in tomatoes and other foods — may improve the function of blood vessels in people with cardiovascular disease, according to a new study, but experts suggest that it is best to stick with eating real fruits and vegetables for now.
Researchers found that blood-vessel function improved by 53 percent in cardiovascular disease patients who had been taking a 7-milligram lycopene supplement daily for two months, compared with their blood-vessel function before they began taking lycopene.
"We've shown quite clearly that lycopene improves the function of blood vessels in cardiovascular disease patients," Dr. Joseph Cheriyan, a consultant clinical pharmacologist and physician at Addenbrooke's Hospital and associate lecturer at the University of Cambridge, said in a statement. "It reinforces the need for a healthy diet in people at risk from heart disease and stroke."
However, it is not clear whether improved blood-vessel function may mean a reduced risk of heart disease. "This would need much larger trials to investigate outcomes more carefully," Cheriyan said. [7 Ways to Lower Your Risk of Heart Disease]
Previous research has shown that cardiovascular disease is less common in countries where most people follow the so-called Mediterranean diet, which abounds in lycopene-rich tomatoes, vegetables and olive oil. Although other studies have suggested a link between lycopene consumption and reduced cardiovascular disease risk, they have not shown the effect of the substance on the function of blood vessels.
In the study, 36 cardiovascular disease patients and 36 healthy people took Ateronon — an over-the-counter lycopene supplement — or a placebo. Neither the researchers administering the pills nor the study participants knew which treatment was being provided. The cardiovascular disease patients had also been taking statins (cholesterol-lowering drugs), but their blood-vessel function was still impaired compared with the healthy participants' blood-vessel function.
The researchers measured the people's blood-vessel function by examining how the vessels in their forearms responded to a molecule called acetylcholine.
They found that lycopene improved the blood-vessel function, allowing the blood vessels to dilate more in response to acetylcholine, in the cardiovascular disease patients. The supplement did not affect the blood-vessel function in the healthy people, the researchers said.
The investigators found no effect of lycopene supplementation on blood pressure, arterial stiffness or lipid levels.
"This is a very well-done study," said Dr. Stanley Hazen, a cardiologist at the Cleveland Clinic who was not involved in the research, calling the results "promising."
"It is a nice attempt to show how nutrition can improve" blood-vessel function, said Dr. Monica Aggarwal, a cardiologist and a member of the Heart Center at Mercy Medical Center in Baltimore. "Fifty-three percent is an impressive number."
However, Hazen and Aggarwal agreed that improved blood-vessel function does not guarantee that a person won't have a stroke or heart attack, even though impaired functioning of blood vessels and cardiovascular disease are often related.
Further research should examine data on heart attacks in people taking lycopene, to determine if taking the supplement actually translates into better cardiovascular disease outcomes, Hazen told Live Science.
Still, he recommended that people be cautious about taking supplements, including lycopene, as it is often not completely clear how, exactly, they might affect people's health.
"You can't overdose on vegetables, but you can have a problem when you take too many supplements," Hazen said.
"There is much more to the Mediterranean diet than just lycopene," Aggarwal told Live Science, adding that the new research should encourage people to eat more vegetables.
The study was published today (June 9) in the journal PLOS One.
Follow Live Science @livescience, Facebook& Google+. Originally published on Live Science.
Stay up to date on the latest science news by signing up for our Essentials newsletter.