Dinosaur Fossil Smuggler Gets 3-Month Sentence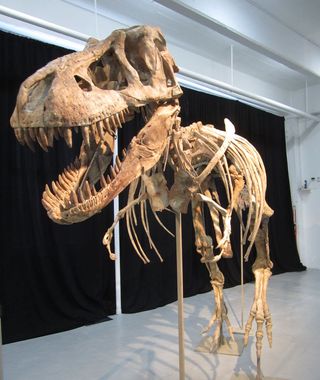 (Image credit: Wynne Parry for Live Science)
NEW YORK — An international drama centering on the restored skeleton of a predatory dinosaur began on the auction block two years ago and came to a close here in a Manhattan courtroom today (June 3). Eric Prokopi, the man who pleaded guilty to charges he smuggled these fossils and others into the United States, was sentenced to three months in federal prison.
Prokopi "is clearly not a bad person, but he has done a bad thing," said U.S. District Court Judge Alvin Hellerstein before issuing the sentence. "The punishment must deter others."
The outcome upset Prokopi and his family, said Prokopi's attorney Georges Lederman afterward. "He was hoping for probation."
One dinosaur leads to many
On Dec. 27, 2012, Prokopi pleaded guilty to charges he made misleading or false statements on U.S. customs forms when importing dinosaur fossils, and that he transported fossils into the United States and across state lines knowing they had been taken illegally from Mongolia. Together, these charges carried a cumulative sentence of as much as 17 years, plus possible fines. [See Photos of the Smuggled Dinosaur Skeleton]
In court, however, the prosecution supported leniency, citing Prokopi's cooperation.
"We went into the case pursuing one Tarbosaurus bataar skeleton," said Martin Bell, an assistant U.S. attorney in the Southern District of New York. "Speaking with Mr. Prokopi, we were alerted to the existence [of many other dinosaur fossils], also Mongolian property, of which we were not aware."
The federal investigators recovered these fossils from Prokopi and his contacts, and made arrangements to repatriate the finds to Mongolia. The specimens, mostly from Prokopi and his business partner in the England, Chris Moore, include a number of Tarbosaurus specimens, some nearly complete and others fragmentary. It also includes dinosaur eggs and fossils from duck-billed dinosaurs called hadrosaurs, frilled protoceratops, armored ankylosaurs, the roosterlike Gallimimus and others.
End to an open black market?
The story began when Prokopi attempted to sell an 8-foot-tall (2.4 meters) and 24-foot-long (7.3 m)Tarbosaurus, an Asian relative to the North American Tyrannosaurus rex,that Prokopi had prepared at a public auction in May 2012. News of the impending sale of the T. rex-like dinosaur fossils reached Mongolian President Elbegdorj Tsakhia, who sought to stop the sale. Elbegdorjsaid these fossils were most likely taken illegally from his country, where law makes fossils state property. Paleontologists from Mongolia and North America supported the president's claim.
At auction, the Tarbosaurus attracted a bid of just over $1 million, though the fossil never sold. The federal government sought to seize the skeleton; Prokopi defended his claim on it, and found himself facing criminal charges related to fossil smuggling. [Image Gallery: Amazing Dinosaur Fossils]
Before this case, Mongolian fossils were easily bought and sold in the United States, regardless of Mongolian law. However, this case has changed things, said Robert Painter, an American attorney who represents President Elbegdorj."You have seen an evaporation of smuggled fossils being offered for sale in the U.S," Painter said.
Painter said he, too, had expected Prokopi to receive probation, because of the man's cooperation with investigators, but that the three-month sentence would further deter the sale of ill-gotten fossils. "I think [the sentencing is] adding this last chapter to this story: Not only do the smuggled items get returned, but you can go to jail as a smuggler. That is the most chilling of all effects I can imagine," he told Live Science.
Preparing to rebuild
Prokopi's version of eventsProkopi's version of eventsdid not sit well with Judge Hellerstein. The commercial paleontologist said he believed permits could be obtained to export fossils legally from Mongolia and did not realize he lacked those permits until after the fossils had left the country. The judge wanted to ascertain whether or not Prokopi accepted full responsibility for his actions. (The Mongolian government has never issued export permits for commercial sale, Painter said.)
Once Prokopi realized the fossils had been taken out of Mongolia illegally, "he was committed" to keeping the fossils and went on to falsify customs forms so as to bring the specimens from England into the United States, Lederman explained to the judge.
Prior to hearing his sentence, Prokopi apologized to the judge. "I have not lost my love for paleontology," Prokopi said. "I hope to rebuild my business with more emphasis on proper documentation on everything." He said he regretted the negative publicity his case has attracted for commercial paleontology.
Hellerstein originally sentenced Prokopi to six months in federal custody; after some discussion with Lederman, the judge lowered that sentence to three months, followed by three months in a halfway house, and a year of probation. Hellerstein waved a $10,000 fine after Lederman noted that, since the case began, Prokopi has gone through bankruptcy and is in debt. His sentence also includes 100 hours of community service, which Hellerstein recommended be served in a natural history museum.
Follow us @livescience, Facebook & Google+. Original article published on Live Science.
Stay up to date on the latest science news by signing up for our Essentials newsletter.
Wynne was a reporter at The Stamford Advocate. She has interned at Discover magazine and has freelanced for The New York Times and Scientific American's web site. She has a masters in journalism from Columbia University and a bachelor's degree in biology from the University of Utah.