Auctioned Tyrannosaur Skeleton Possibly Smuggled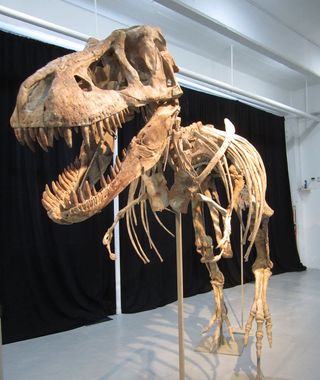 (Image credit: Wynne Parry)
A fossilized dinosaur that was once at the top of its food chain is now caught in the jaws of a legal battle over whether or not its remains can be sold in the United States.
The anonymous buyer who bid $1.1 million for the towering specimen Sunday (May 20) in New York will not receive it if the courts decide it is the rightful property of Mongolia.
The president of Mongolia says the skeleton, which stands 8 feet tall and 24 feet long (2.4 by 7.3 meters), was almost certainly taken illegally out of his country. American and Mongolian paleontologists have supported President Elbegdorj Tsakhia's claim that this dinosaur, a species sometimes called Tyrannosaurus bataar, is from Mongolia, where these close relatives of the North American Tyrannosaurus rex are found. [Up For Auction: A Natural History Gallery]
What makes them certain?
To most scientists Tyrannosaurus bataar goes by a different name, Tarbosaurus bataar; but both are considered tyrannosaurs.
So far at least, the remains of tarbosaurs haven't shown up in many places. In fact, all fossils that can be positively identified as tarbosaur remains come from one spot in the Gobi Desert. [Tyrannosaur vs. Tarbosaur: What's the Difference?]
"The specimens we can clearly tell are tarbosaurus, and all of the nice material of Tarbosaurus comes from a particular rock formation," said Lawrence Witmer, an anatomist and paleontologist at Ohio University. "So we all feel pretty confident this specimen almost certainly comes from Mongolia."
Witmer is referring to the Nemegt Formation, a rock formation in Mongolia's portion of the Gobi that dates back roughly 70 million years, to the Late Cretaceous Period.
Teeth found in China, Kazakhstan and possibly parts of Russia may belong to tarbosaurs but can't be conclusively identified, said Philip Currie, a paleontologist at the University of Alberta who studies Tarbosaurus and other tyrannosaurs.
Under Mongolian law, "items of historical, cultural or scientific value" found above or underground are property of the state.
"We want this dinosaur to go back to Mongolia, where it belongs; that is the sole purpose of this," said Mongolian paleontologist Bolorsetseg Minjin as she stood on the sidewalk with other protesters near the auction in Manhattan on Sunday (May 20).
Unusual finds
As the only clear source of Tarbosaurus fossils, the Nemegt Formation has been generous.
"It is a very unusual place in the sense that Tarbosaurus is disproportionately common," Currie told LiveScience, "which is a very interesting scientific problem of its own."
Tarbosaurus, like T. rex, occupied the top of the food chain. These "apex predators" are expected to be more scarce than the animals they eat. However, Tarbosaurus fossils make up about 50 percent of the dinosaur skeletons excavated from the formation.
The strangeness doesn't stop there. The skeleton auctioned May 20 was 75 percent complete, an impressive percentage in the world of dinosaur specimens, except for Tarbosaurus.
In fact, a 75 percent complete skeleton is pretty standard for it, Currie said."We have got some that are almost 90, 95 percent complete, and we have a lot of complete skulls."
About 30 nearly complete tarbosaurus specimens are held in museums, but based on the suspicious excavations he's seen in Mongolia, Currie estimates that at least twice as many could be on the illegal market. On Wednesday, the Society for Vertebrate Paleontology, of which Currie is president, released a statement strongly condeming the sale of the dinosaur skeleton, as well as several other fossils sold at Sunday's auction. [Smuggled? Other Auctioned Fossils]
Mysterious sellers
The auctioneer, Heritage Auctions, has not identified the sellers of the dinosaur but said they "warranted in writing to Heritage that they hold clear title to the fossils."
Heritage declined to answer further questions for this story, releasing a statement: "Because of the complexity of the circumstances, our auction sale of the dinosaur was conditional on a resolution of the court case. We now are focused on working with the parties involved to try to achieve a fair and amicable resolution."
It appears the auction house had at least some knowledge of its origin. The auction catalog lists the specimen as coming from Central Asia, and in interviews, David Herskowitz, director of natural history at Heritage Auctions, identified its origin as the Gobi Desert, which stretches between Mongolia and China. An article in the British tabloid The Daily Mail quotes him as saying it came from Mongolia.
On Sunday, Heritage president Gregory Rohan pointed out that putting a specimen with questionable ownership in a major auction would make no sense.
"If there is a title problem, you go and sell it secretly to someone in a backroom for a suitcase full of cash. That is something we have nothing to do with," he said.
You can follow LiveSciencesenior writer Wynne Parry on Twitter @Wynne_Parry. Follow LiveScience for the latest in science news and discoveries on Twitter @livescience and on Facebook.
Stay up to date on the latest science news by signing up for our Essentials newsletter.
Wynne was a reporter at The Stamford Advocate. She has interned at Discover magazine and has freelanced for The New York Times and Scientific American's web site. She has a masters in journalism from Columbia University and a bachelor's degree in biology from the University of Utah.