An 'Exercise Snack' May Help Control Blood Sugar Levels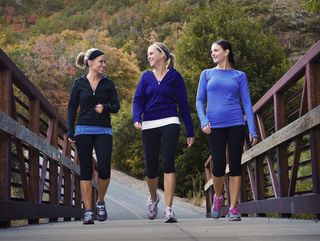 (Image credit: <a href='http://www.shutterstock.com/pic.mhtml?id=92436103&src=id'>Brisk walk photo </a> via Shutterstock)
Doing short bursts of intense exercise before meals may help control blood sugar levels in some people, according to a small new study.
People in the study who did several 1-minute bursts of intense exercise 30 minutes before their three daily meals saw a 12 percent reduction in their blood sugar levels after their meals, compared with people who did 30 minutes of moderate exercise once a day, researchers said.
Such "exercise snacking," or doing exercise in short bursts, provides a break from sedentary time, whether it's performed before meals or at other times of day, said study researcher Dr. Jim Cotter, associate professor at the University of Otago in New Zealand.
"Spreading exercise out across the day in high-energy bursts, particularly before breakfast and dinner, is important for controlling blood glucose throughout the whole day," Cotter told Live Science. "If you are sedentary for most of the day, 30 minutes of moderate exercise — a medium-paced walk, for example —is not enough." [9 Healthy Habits You Can Do in 1 Minute (Or Less)]
Examples of exercises that are beneficial for controlling blood glucose include walking up stairs, team sports, hill walking, cycling intervals on a stationary bike or circuit training, he said.
The study included nine people, consisting of two women and seven men, between ages 18 and 55. All had blood tests that indicated they had insulin resistance,in which the body produces insulin but does not use it effectively. The condition can be a precursor to Type 2 diabetes, and indeed, two people in the study were newly diagnosed with Type 2 diabetes during the study's initial screening.None of the participants was taking cardiovascular or diabetic medication.
The participants completed three separate exercise regimens, each for a three-day period. They either did one 30-minute session of moderate exercise before dinner, or did one of two "exercise snacking" regimens — consisting of six 1-minute bursts of intense exercise, separated by 1 minute of slow walking between each burst — completed 30 minutes before breakfast, lunch and dinner. The two exercise snacking regimens differed in the type of intense exercise that was done — in one, participants walked up an incline at a brisk pace, whereas in the other, they alternated between walking and resistance training.
The researchers found that both exercise-snacking routines controlled blood sugar more effectively than the moderate-exercise routine. The reduction in blood sugar levels persisted for 24 hours following activity, according to the study published today (May 8) in the journal Diabetologia.
Dr. John Higgins, exercise physiologist and sports cardiologist at the University of Texas Health Science Center at Houston, said that although this study illustrates that people with insulin resistance may benefit from short bursts of intense exercise, more research is needed to show the reasons why it's effective.
"Are the beneficial effects on blood glucose strictly from the high-intensity exercise, or is there something else involved?" he said. It could be that intense exercise releases hormones into the body that have a positive effect on blood glucose prior to a meal.
Higgins added that it might also have something to do with the timing of the exercise sessions in relation to the meals.
Follow LiveScience @livescience, Facebook & Google+. Original article on Live Science.
Stay up to date on the latest science news by signing up for our Essentials newsletter.