Eyes in the Sky Spy on California Drought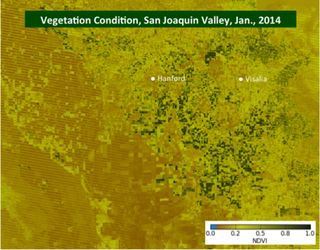 (Image credit: NASA)
California's startling transformation from green to brown, an effect of the ongoing drought, may be most striking when viewed from space.
That's one reason NASA is tracking the impact of California's extreme drought, in partnership with state and federal agencies.
Several ongoing studies aim to pin down California's entire water cycle, from before rain and snow fall from the sky, all the way to the aquifers that flow beneath the state's aqueducts.
At a news conference today (Feb. 25), NASA research scientist Forrest Melton, of the Ames Research Center in Moffett Field, Calif., showed how satellite imagery can track the extent of fallowed land throughout the state. The pilot project is scheduled for a real-world launch in April. Information on fallowed, or unplanted, land is often proprietary during planting season, so the NASA data will help agencies monitor and predict water and land use in real-time.
And there's a human impact, too — fallow land means no crops to pick, and no income for some residents. [California Drought: Is Climate Change To Blame? | Video]
"One of the uses of this fallow land-monitoring tool is being able to identify [areas with] high needs for social services assistance, such as food banks," said Duane Waliser, chief scientist for the earth science and technology directorate at NASA's Jet Propulsion Laboratory (JPL) in Pasadena, Calif. "During the last drought in 2007, we had all these requests for emergency food assistance in Fresno County," a farming region, he said.
Another ongoing research project, called the Airborne Snow Observatory, will map the Sierra Nevada snowpack this spring in the Tuolumne River Basin and the Uncompahgre watershed in the Upper Colorado River Basin. The Tuolumne watershed is the primary water supply for the San Francisco Bay Area. The airborne observatory measures how much water is in the snowpack and how much sunlight the snow absorbs, both of which affect how fast snow melts. The measurements provide a more accurate estimate of snowmelt than current techniques can, researchers said.
"This is a huge difference than what they were ordinarily basing operations on," said Tom Painter, principal investigator for the Airborne Snow Observatory at JPL.
Because of the drought, most of California's snowpack this year will come from just a few storms delivered by a weather phenomenon called atmospheric rivers. These narrow, river-like corridors of atmospheric water vapor provide about 40 percent of California's fresh water supply in just nine days of storms, studies have shown.
"Atmospheric rivers are to the West as hurricanes are to the East," Waliser said.
NASA scientists have teamed with state and academic researchers to better predict the arrival of atmospheric rivers, and forecast how much precipitation these phenomena will bring. The NASA team is also working to understand and forecast the Madden-Julian Oscillation, a recurring pattern of tropical weather and climate that affects weather in Earth's mid-latitudes, including California.
"When one of these [the Madden-Julian Oscillation] occurs, we see a pretty strong modulation of California rainfall," Waliser said. "The really important part of this is providing predictive capability."
Finally, JPL researchers have produced regional maps of ground sinking, or subsidence, due to groundwater pumping in the Central Valley, where most of the state's agriculture is concentrated. The detailed histories reveal year-to-year changes in groundwater storage and the effect of farming on local aquifers. The data come from monitoring tiny surface changes with InSar, a radar measurement technique, and extend through 2011.
Because the United States doesn't have its own InSar satellite, just airborne instruments, JPL would need to purchase large swaths of data from Canada to track the subsidence due to the current drought, said Tom Farr, a JPL geologist. The California Department of Water Resources plans to provide funding for additional subsidence studies, said Jeanine Jones, DWR interstate water resources manager.
Email Becky Oskin or follow her @beckyoskin. Follow us @OAPlanet, Facebook and Google+. Original article at Live Science's Our Amazing Planet.
Stay up to date on the latest science news by signing up for our Essentials newsletter.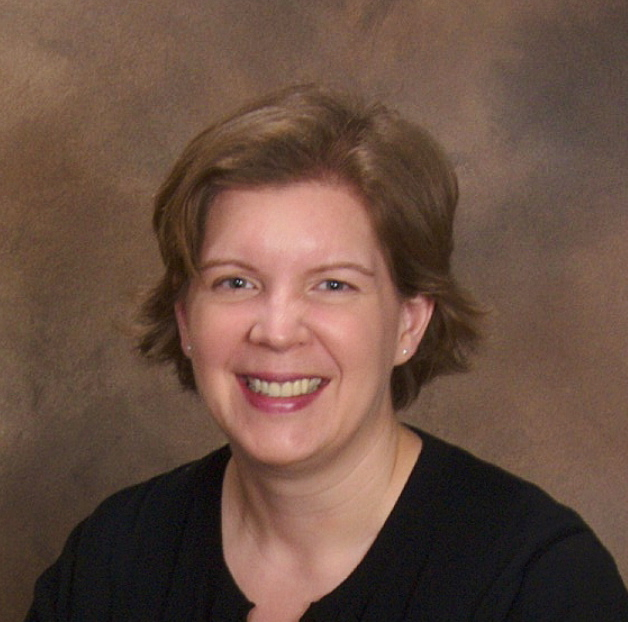 Becky Oskin covers Earth science, climate change and space, as well as general science topics. Becky was a science reporter at Live Science and The Pasadena Star-News; she has freelanced for New Scientist and the American Institute of Physics. She earned a master's degree in geology from Caltech, a bachelor's degree from Washington State University, and a graduate certificate in science writing from the University of California, Santa Cruz.