Google Goes Wild: How Off-Road Tech Aids Conservation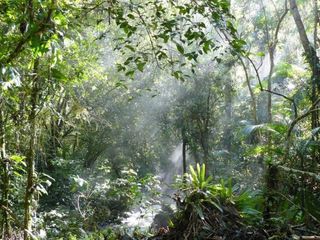 (Image credit: Tim Hirsch)
Google Earth and Google Street View have made it possible for anyone with an Internet connection to explore some of the world's most spectacular destinations, right from their computer, tablet or smartphone. Now, homebodies and wannabe globetrotters can "dive" into the Great Barrier Reef, uncover the history of the Roman Colosseum and even "climb" Mount Everest — for free, and without the airport hassles.
But the search-engine giant's mapping and imaging technology has uses beyond navigation and armchair travel. Wildlife conservation is also getting a boost, thanks to several groups' efforts to use some of these Google tools to track invasive species, map populations of endangered species and monitor changes to animal habitats.
One such effort has taken Google Street View into the Amazon. Working with conservation organization Amazonas Sustainable Foundation (FAS), Google Street View and Google Earth teams have collected ground- and river-level images of the Rio Negro Sustainable Development Reserve, a protected area in the Brazilian Amazon.
Google usually uses camera-equipped cars to take images for its Street View, but because the Rio Negro region is inaccessible by car, the researchers had to come up with an alternative method. To capture the images, the teams strapped a camera onto a bicycle and pedaled it down dirt paths through the forests, and they even mounted it onto a boat to collect images of a section of the Rio Negro, the Amazon's largest tributary, Google explained on one of its Outreach pages. The teams then amalgamated more than 2,000 still images to create 360-degree panoramas of the Amazon jungle. [Biodiversity Abounds: Stunning Photos of the Amazon]
For the project, FAS uses Open Data Kit (ODK), a set of tools designed to help organizations collect and analyze data gathered via mobile devices. By using ODK, FAS can collect and transfer data, photos and videos, as well as chart the geographic coordinates of deforestation or degradation occurring within threatened areas, said Gabriel Ribenboim, a researcher who's leading the project for FAS.
"Those data are periodically collected by trained forest community members and, once it reaches FAS headquarters in Manaus [Brazil], can be grouped and analyzed using Google Fusion Tables," Ribenboimsaid, referring to Google's Web application for gathering, visualizing and sharing data tables.
Both Google and FAS hope the project will raise awareness of conservation issues, help protect Amazonian communities and even influence policymakers.
"After the implementation of the community forest ODK monitoring program and the Street View for the Amazon, FAS launched a new Web-based platform — called Bolsa Floresta Platform — to serve as an interactive tool where Bolsa Floresta Program's beneficiaries, the general public, donors and government agencies are able to explore all kinds of informational map layers," Ribenboim told LiveScience.
These map layers show characteristics like the vegetation, soils, bodies of water and climate of protected areas, and this information is combined with Street View imagery, videos, photos and 3D buildings to provide a comprehensive picture of the region, he added.
In phase two of the project, FAS will expand the footage to other reserves, as well as get a new view of the area observed in the Rio Negro pilot project and "compare the social, economical and environmental improvements and land-use changes through Street View imagery," said Victor Salviati, coordinator of special projects at FAS.
The organization also plans to use a "backpack camera," which is much lighter and more portable than the camera used on the bike. "This will enable us to run Street View to farther places and show more about our largest natural asset: the Amazon forest and the culture of its local population," Salviati told LiveScience.
Smartphones, tablets and chimps
On the other side of the world, the Jane Goodall Institute, an ape-conservation organization founded by renowned chimpanzee researcher Jane Goodall, is leading a similar effort. The organization equips local residents in Tanzania with smartphones, tablets and cloud technology to help monitor African forests, said Lilian Pintea, JGI's vice president of conservation science. [Video – Jane Goodall's Wild Chimpanzees]
The monitors look for signs of human activity that could endanger wildlife and the forests, and take photos documenting the most important threats, Pintea explained. The villagers also document the presence of more than 20 species, with a focus on chimpanzees — for instance, if the forest monitors see an animal or its tracks, they take photos with their smartphones, he said.
The Jane Goodall Institute uses ODK to manage all of the information and photos collected from the mobile devices, and stores the data in Google Cloud, Pintea told LiveScience. Then, through Google Earth Engine and Google Maps Engine, the institute's researchers can visualize the multiple layers of data to model the suitability of chimpanzee habitat and to predict the potential distribution of chimpanzees.
Whereas traditional maps are limited to two dimensions, Google Earth's 3D, high-resolution imagery makes it easier for the villagers to recognize the topography so they can monitor forests and habitats, Pintea said.
Through this data-collection process, the JGI has identified previously unknown threats to chimpanzees. "Even in the first few weeks of a forest villager getting his smartphone, he reported this trap, designed to capture a live primate — we think either a baboon or a chimp — and this trap had never been recorded before in Tanzania," Pintea said.
In the future, Pintea hopes to use imagery of the region gathered over the years to track changes in the forests over time.
Eyes on the Forest
Other endangered species, like the tiger, are also threatened by poaching and habitat destruction. According to the World Wildlife Fund, human activities have led to a 93 percent reduction in tigers' historic range. WWF estimates that 97 percent of the world's tigers have been lost over the past century, and as few as 3,200 remain in the wild.
In 2011, cameras set up by WWF and the Indonesian Ministry of Forestry captured images of 12 tigers in Sumatra, in an area that was set for deforestation. Concerned about the potential destruction of this tiger habitat, WWF used Google Earth to illustrate the effects of deforestation on the Bukit Tigapuluh region, a critical tiger habitat. To raise awareness of these threats, WWF — along with a coalition of nongovernmental organizations called Eyes on the Forest — worked with Google to build a catalog of maps detailing the changes in the region over time, including shifts in the forest cover; ranges of animals such as the tiger, elephant, rhino and orangutan; and floral diversity, according to a statement from Eyes on the Forest.
Through this effort, the organizations hope to illustrate how deforestation in Sumatra — fueled by demand for products like palm oil and paper products — affects the region and its forest-dwelling creatures.
"It will also allow consumers to make informed decisions on the products they buy, as the map can show where a pulp and paper company is clear-cutting trees," Carter Roberts, president and CEO of WWF, said in a statement. "Imagine a buyer of paper products in the United States being able to track whether a supplier is adhering to sustainable logging practices, just by creating a map that details exactly where the supplier is logging and if it overlaps with known tiger habitat."
In addition, the Google mapping project "has helped WWF build public support to stop irresponsible logging companies that contribute to Sumatra's deforestation," said Craig Kirkpatrick, WWF's managing director for Borneo and Sumatra.
Although the long time between satellite images makes it difficult to actively search for threats to tigers, he said, Google technology has been helpful in illustrating the pace of deforestation in the region and its effects on tiger and elephant habitat.
"Google Maps Engine allows us to share the massive amounts of information we've collected over the years and to show what it all means," Kirkpatrick told LiveScience. "We believe that if the public has this information, then things will change, people will become involved to stop the decline, and then, gradually, the forests will come back, and with them, tiger populations."
Elephant tracks
Despite many efforts to curb elephant poaching — including a 1989 agreement among CITES (Convention on International Trade of Endangered Species of Wild Fauna and Flora) members to ban ivory trading — demand in Asia continues to fuel the illegal ivory trade. And although poaching has declined since the 1980s, when an estimated 100,000 African elephants were killed each year by poachers, these massive mammals face additional threats posed by human activities such as commercial logging and armed conflict, WWF says.
Save the Elephants, a Kenya-based organization dedicated to elephant protection and research, is using Google technologies to help protect elephants from some of these dangers. The group uses GPS collars to track elephants in Africa, providing the organization with live, detailed information about the animals' location and movements. Save the Elephants then uses Google Earth to visualize all of the data: By leveraging the application's satellite imagery, researchers can zoom in on certain regions to follow the elephants in real time.
"We've been using Google Earth as a very easy way to find out what our elephants are up to and where they are going," Save the Elephants founder Iain Douglas-Hamilton said in a video hosted on Google's Outreach page. "It links in perfectly to our remote tracking system, so the information is a continuous stream of the elephants' whereabouts."
The real-time updates and alerts are delivered via Save the Elephants' iOS and Android apps to researchers in the field, or via Google Earth to be viewed in more detail on a computer. With knowledge of the elephants' routes, the organization can better protect the animals from poachers and other dangers, and help take action if a threat is detected, Douglas-Hamilton said. [12 Strangest Sights on Google Earth]
"When an elephant stops moving, we can then send a Google Earth file, indicating the place where the elephant is stopped," he said. "Then, the Kenyan Wildlife Service can send out a patrol to go out and investigate. We're at a crucial stage now where we can act and help management to make wise decisions using the information we're getting through the tracking and displayed by Google Earth."
Several other organizations are also using Google technology for conservation purposes. For instance, Defenders of Wildlife is utilizing Google Maps API to help demonstrate the impacts of the BP Deepwater Horizon oil spill and the efforts under way to preserve the Gulf Coast. And the United Nations' environmental voice, the U.N. Environment Programme, is using Google technology to explore the Earth's changing landscape and visualize the effects of climate change and other environmental impacts.
Follow us @livescience, Facebook & Google+. Original article on LiveScience.
Stay up to date on the latest science news by signing up for our Essentials newsletter.