Violence Accounts for 10% of School Injuries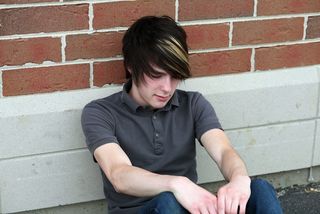 (Image credit: <a href='http://www.shutterstock.com/pic.mhtml?id=3395698&src=id'>Teen photo</a> via Shutterstock)
Violence may account for about 10 percent of the injuries U.S. children receive at school, according to a new study that looked at the causes of children's visits to hospital emergency rooms.
The study is the first of its kind to report such a national estimate.
The researchers estimated that of the 7.39 million visits made to emergency departments by children ages 5 to 19 for school-related injuries, about 736,000 injuries were reported as intentional.
"This number is alarmingly high, especially when you consider that such a substantial number of intentional injuries are occurring in the school setting, where safety measures are already in place," said study researcher Dr. Siraj Amanullah, a pediatric emergency medicine physician at Hasbro Children's Hospital in Providence, R.I.
The researchers considered intentional injuries to be the broken bones, cuts, concussions, sprains and bruises resulting from kids fighting at school, or those of students being physically attacked or bullied, or even self-inflicting harm. (Injuries from playing sports or engaging in other school activities were considered unintentional.)
The research was published online today (Jan. 13) in the journal Pediatrics.
School violence
In the study, the researchers looked at a nationwide database of injuries resulting in hospital emergency-room visits between 2001 and 2008.
To estimate the extent to which violence and bullying cause school-related injuries, they compared the number of intentional injuriesreported in children on school property to the number of incidents outside the school setting during this eight-year period. [10 Scientific Tips for Raising Happy Kids]
The analysis revealed that children were two to three times more likely to be deliberately injured outside of school than within it. But the evidence also showed that approximately 10 percent of violent injuries to children happened in the school building or on its grounds.
Researchers suspect this could be a low estimate, because the data only included injuries that landed kids in the emergency room. It did not include children who got hurt at school and went to their doctor's office, a medical specialist or an urgent-care center.
The most common reason for a violent school injury that required an emergency room visit was an assault, with 90 percent of children who suffered those reporting they were hurt by a friend or acquaintance.
"Although there may be early signs of a downward trend in intentional injuries at school, the numbers are still very concerning," Amanullah said.
He also said he was surprised by the number of these injuries and their persistence as a public health issue, despite years of attention being directed at the safety of children in the school setting, such as bullying-awareness programs, anti-violence campaigns and increased levels of adult supervision.
Physical and emotional effects
The study also identified several groups that are more vulnerable to violent injuries at school. It found that males were more likely to have intentional injuries in school, whereas females were more at risk for them outside school, for reasons that researchers said remain unclear.
Middle-schoolers ages 10 to 14 had more intentional injuries at school than either elementary- or high-school-age students, but 15- to 19-year-olds were at higher risk for violent injuries outside the school setting.
It's possible that older students are less likely than younger children to report physical bullying injuries when they're at school, Amanullah told LiveScience.
The analysis also showed that students who were black, Hispanic or Native American were at greater risk of intentional injury at school than students who were white or Asian.
Violent school injuries affect not only the physical health of children, but also their emotional health, Amanullah said.
"As parents, guardians, teachers and physicians, we need to take an extra moment to talk to children about bullying and its consequences," Amanullah said. Experts who design safety strategies at school may need to supplement or totally revamp existing measures to reduce violence, he added.
Follow LiveScience @livescience, Facebook & Google+. Original article on LiveScience.
Stay up to date on the latest science news by signing up for our Essentials newsletter.
Cari Nierenberg has been writing about health and wellness topics for online news outlets and print publications for more than two decades. Her work has been published by Live Science, The Washington Post, WebMD, Scientific American, among others. She has a Bachelor of Science degree in nutrition from Cornell University and a Master of Science degree in Nutrition and Communication from Boston University.