Captive Chimpanzees May Get Endangered Status in US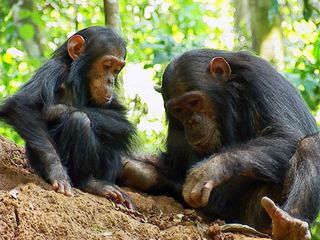 (Image credit: The Jane Goodall Institute)
The federal government has proposed listing captive chimpanzees as endangered, which would increase protections for the animals, according to the U.S. Fish and Wildlife Service (FWS).
Wild chimpanzees have been listed as endangered since 1990, but captive chimps are listed as threatened, a designation that carries fewer protections. The agency said today (June 11) during a teleconference that the new proposed rule came about after they determined the Endangered Species Act (ESA) doesn't allow for wild and captive-held animals to have separate legal statuses, said Dan Ashe, director of the FWS, in the teleconference.
The agency also found that threats to chimpanzees have increased due to habitat loss, poaching and disease in the last 20 years, Ashe said. [Image Gallery: Amazing Photos of Chimp Faces]
"Finally this day has come," said British primatologist and legendary scientist Jane Goodall. "I think it shows there has been an awakening" about the plight of the chimpanzee, she added, during the teleconference.
The proposed rule would have implications for privately held chimpanzees and those used in animal testing. Any type of research involving chimpanzees will now require a permit, Ashe said. It would also restrict and require permits for the import, export and trade of the animals, he added.
"Chimpanzees are in trouble, in the wild and in captivity, and this elevation in their protected status is a critical tool in saving them and in assuring that our children grow up in a world where chimps still live in their native habitats," said Wayne Pacelle, president of the Humane Society of the United States, in a statement.
About 2,000 captive chimps currently reside in the United States, Goodall said.
This change would not automatically impact the use of chimpanzees in the entertainment industry, although that is "something we're interested in learning more about," Ashe said.
In 2010, the FWS received a legal petition from a variety of organizations, including the Jane Goodall Institute, to list all chimps as endangered, which led to a formal review of the status of chimpanzees under the ESA.
The newly proposed rule will be detailed in the Federal Register Wednesday (June 12) and will be open for public comment for 60 days. It will take approximately a year before the final rule is issued.
Chimpanzees have "helped us understand there's no sharp line between us and the other animals with which we share the planet," Goodall said.
Email Douglas Main or follow him on Twitter or Google+. Follow us @livescience, Facebookor Google+. Article originally on LiveScience.com.
Stay up to date on the latest science news by signing up for our Essentials newsletter.
Douglas Main loves the weird and wonderful world of science, digging into amazing Planet Earth discoveries and wacky animal findings (from marsupials mating themselves to death to zombie worms to tear-drinking butterflies) for Live Science. Follow Doug on Google+.