Scientist Prospects for 'Bio-Gold' at Yellowstone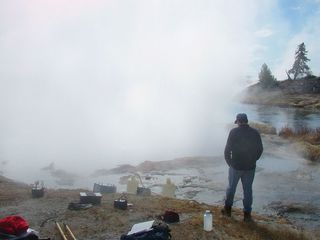 (Image credit: David Mead, Lucigen Corp.)
Editor's Note: ScienceLives is an occasional series that puts scientists under the microscope to find out what makes them tick. The series is a cooperation between the National Science Foundation and LiveScience.
Name: Thomas Schoenfeld Age: 46 Institution: Lucigen Corp. Field of Study: Bioprospecting
Research carried out by Tom Schoenfeld and David Mead of Lucigen Corp. has revealed the diversity of viruses in the fuming waters of Yellowstone National Park's hot springs. Using advanced microbiology techniques, the researchers have analyzed numerous virus genes to hunt for genetic codes that could be valuable to bioengineers for developing everything from new medicines to sensor technology. The project is daunting — every teaspoon of hot spring water contains hundreds of thousands of viruses categorized by thousands of different viral types. Read more about the research here. And you can see a stunning image captured by the researchers in the field by clicking here. Below, Schoenfeld answers the ScienceLives 10 Questions.
What inspired you to choose this field of study? Like a lot of the people that do this kind of work, I was the kind of kid that liked to take the back off the television and see how it worked or turn over a log in the woods and see what was living under it. My job is really an extension of that behavior.
What is the best piece of advice you ever received? Work with the best people you can. Take their opinions into account, but don't let other people's opinion get in the way of your plans if you're confident you're on the right track.
What was your first scientific experiment as a child? The fungus farm I cultivated on the remains of a peanut butter and jelly sandwich. I actually had a pretty good lab in my bedroom by the age of 5.
What is your favorite thing about being a scientist or researcher? Every day I have the chance to learn things that were never known or do things that have never been done before.
What is the most important characteristic a scientist must demonstrate in order to be an effective scientist? Persistence. It's good to be smart, creative, insightful, etc., but persistence is more important than any of those things. Bad reviews, failed experiments, rejected papers and grants are part of the process. Live with it.
What are the societal benefits of your research? I hope that, in the near future, the things we are discovering are used to detect and fight serious diseases like influenza and other viral infections and/or cancer. I also think bioprospecting makes a very good case for conservation of natural resources.
Who has had the most influence on your thinking as a researcher? Early on, I read a lot about the lives of Thomas Edison and the Wright brothers. I still try, in some ways, to follow their approach. They were all very in-tune with the basic science of the day, even though their research was very applied, like mine. They were also very persistent with their research in spite of difficulties.
What about your field or being a scientist do you think would surprise people the most? It's not all grand discovery. A lot of time is spent doing things that could be considered drudgery, like writing grants and editing and submitting papers and patents, etc.
If you could only rescue one thing from your burning office or lab, what would it be? My clone collection and my computer. That's two things, but I think I could get them both out.
What music do you play most often in your lab or car? I've been listening to a lot of world music lately.
Stay up to date on the latest science news by signing up for our Essentials newsletter.