X-Ray-Blocking Glass Shard Underpants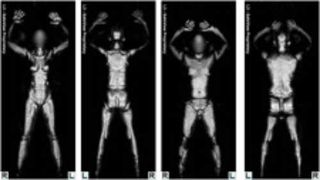 Yet another attempt to outwit airport body scanners comes from Steve Bradshaw, 54, of Poynton, England. The professional screenprinter is marketing X-ray-proof underpants printed with barium sulphate, aluminium, ground glass and other supposedly X-ray scattering materials to stop what he considers "invasive breaches of privacy" at airport security checkpoints.
The concept is similar to that of Rocky Flats Gear a line of undergarments invented by Jeff Buske of California last November in that materials in the underwear scatter incoming X-rays in order to prevent security guards from seeing outlines of whatever's underneath. Both inventors claim that while the britches will obscure fleshy objects, large metallic objects would still be visible inside the underpants.
"Small cutouts in the design allow a large metal object or gun to show up on the operator's screen," Bradshaw told the Daily Mail. "I believe it is a compromise because it diffuses the image, allowing dangerous items to be seen without showing graphic detail."
The likely discomfort of wearing ground glass underwear aside, at least one scientist thinks Bradshaw's garments may work to scatter X-rays. "Using a material to reflect X-rays and 'blind' the backscatter machine would be an effective way to prevent outlines of any body parts from being seen," Nick Bowring, an electrical engineer at Manchester Metropolitan University, told the press.
"But the detection of the reflective material itself would be very easy and obvious. It would appear as a bright region on the image and people presenting with such areas would certainly be stopped and subject to a manual search," Bowring said.
This is true, according to the U.S. Transportation Security Administration (TSA). "If there is something shielding an area and we don't know what's under it, we have to conduct a pat-down," a spokesperson for the agency wrote in a blog post about X-ray proof underwear back in January. "Some might think this is TSA's way of getting back at clever passengers. That's not the case at all. It's just security."
You're damned if you do and even more damned if you don't: Either TSA security personnel must view your body parts in full or they must pat them while you wear underpants made of glass shards.
Got a question? Send us an emailThis e-mail address is being protected from spambots. You need JavaScript enabled to view it This e-mail address is being protected from spambots. You need JavaScript enabled to view it This e-mail address is being protected from spambots. You need JavaScript enabled to view it This e-mail address is being protected from spambots. You need JavaScript enabled to view it This e-mail address is being protected from spambots. You need JavaScript enabled to view it This e-mail address is being protected from spambots. You need JavaScript enabled to view it This e-mail address is being protected from spambots. You need JavaScript enabled to view it This e-mail address is being protected from spambots. You need JavaScript enabled to view it This e-mail address is being protected from spambots. You need JavaScript enabled to view it This e-mail address is being protected from spambots. You need JavaScript enabled to view it This e-mail address is being protected from spambots. You need JavaScript enabled to view it This e-mail address is being protected from spambots. You need JavaScript enabled to view it This e-mail address is being protected from spambots. You need JavaScript enabled to view it This e-mail address is being protected from spambots. You need JavaScript enabled to view it This e-mail address is being protected from spambots. You need JavaScript enabled to view it This e-mail address is being protected from spambots. You need JavaScript enabled to view it This e-mail address is being protected from spambots. You need JavaScript enabled to view it This e-mail address is being protected from spambots. You need JavaScript enabled to view it This e-mail address is being protected from spambots. You need JavaScript enabled to view it and we'll crack itThis e-mail address is being protected from spambots. You need JavaScript enabled to view it . Follow Natalie Wolchover on Twitter @nattyover
Stay up to date on the latest science news by signing up for our Essentials newsletter.
Natalie Wolchover was a staff writer for Live Science from 2010 to 2012 and is currently a senior physics writer and editor for Quanta Magazine. She holds a bachelor's degree in physics from Tufts University and has studied physics at the University of California, Berkeley. Along with the staff of Quanta, Wolchover won the 2022 Pulitzer Prize for explanatory writing for her work on the building of the James Webb Space Telescope. Her work has also appeared in the The Best American Science and Nature Writing and The Best Writing on Mathematics, Nature, The New Yorker and Popular Science. She was the 2016 winner of the Evert Clark/Seth Payne Award, an annual prize for young science journalists, as well as the winner of the 2017 Science Communication Award for the American Institute of Physics.