The Top 10 Words of 2010: How They Became Popular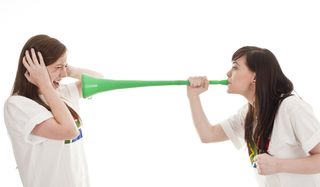 (Image credit: dreamstime)
The Global Language Monitor announced its list of the Top 10 Words of 2010 today (Nov. 16). You're sure to recognize some of the words who could forget "snowmageddon"? but others might not roll off your tongue so easily. Here, a breakdown of each word's claim to fame.
10. Simplexity The rapidly emerging theory centered on the relationship between complexity and simplicity. The simplexity discussion part of which revolves around the notion that simple-seeming things can be complex, and vice versa has gained popularity mostly among philosophers, mathematicians, the advertising and marketing industries, and design-oriented engineers.
9. Shellacking After Republicans beat down the Democrats in the 2010 midterm elections and regained control of the House, President Obama described the turnover as a "shellacking," a term that was repeated in nearly every newspaper, website, and television headline.
8. 3-D After "Avatar" pulled in more than $2 billion, everyone wanted in on 3-D. 2010 was the year of the three-dimensional movie, with 24 3-D films, for which theaters charge more for admission, hitting box offices. In addition, many television and camera companies rolled out 3-D home theater gear.
7. Snowmageddon (and "Snowpocalypse") In February, storms along the East Coast of the U.S. and much of Northern Europe dropped record-breaking snowfalls, and were subsequently given awesome names.
6. Deficit Another downer, this word made headlines as the United States and other economic powerhouses fell into financial decline and total government spending outpaced total government revenue.
5. Guido and Guidette We owe these affectionate terms for young Italian Americans to the good folks on MTV's "Jersey Shore" phenomenon. Stay classy.
4. Refudiate Sarah Palin makes the list thanks to her July 18 tweet: "Ground Zero Mosque supporters: doesn't it stab you in the heart, as it does ours throughout the heartland? Peaceful Muslims, please refudiate". "Refute" and "repudiate" are real words; "refudiate" is not.
3. The Narrative This term has been catching on in politics as a way to describe how a political platform is packaged for mass consumption. When media members discuss a party's political platform, they almost always refer to it as that party's narrative.
2. Vuvuzela The beehive buzzing that permeated every World Cup game held in South Africa was created by thousands of inexpensive plastic horns, called vuvuzelas. Although some people fell in love with the racket, others developed software to mute it from broadcasts.
1. Spillcam If you saw news coverage of BP's oil leak, there's a good chance that you saw underwater footage of oil gushing from Deepwater Horizon's riser. The depressing live video from the Gulf of Mexico was captured by BP's Spillcam. (BP actually operated multiple spillcams, in case one failed. If only the drilling rig featured such redundancy...)
Got a question? Email it to Life's Little Mysteries and we'll try to answer it. Because of the high volume of questions we receive each day, we unfortunately can't reply individually, but we will publish answers to the most intriguing questions, so check back soon.
Stay up to date on the latest science news by signing up for our Essentials newsletter.
Bjorn Carey is the science information officer at Stanford University. He has written and edited for various news outlets, including Live Science's Life's Little Mysteries, Space.com and Popular Science. When it comes to reporting on and explaining wacky science and weird news, Bjorn is your guy. He currently lives in the San Francisco Bay Area with his beautiful son and wife.