Thundersnow! Snowy Rumble In Virginia Caught On Video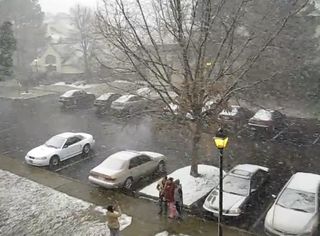 (Image credit: worldwidebrian/YouTube)
While most of the country simply froze this past weekend, people in Richmond, Va., got a bonus of the winter weather: a startling phenomenon known as thundersnow.
Thundersnow is a rarity, a wintertime thunderstorm with snow instead of rain. These storms spawn long, low rumbles of thunder, sometimes with lightning flashes. The lightning can stretch out in long creepy-crawly branches moving over tens of miles, similar to the lightning in squall line storms during Midwestern summers.
In the above video, taken on Feb. 11, the crackle is heard at 25 seconds.
Thundersnow is caused by an upward rush of air from the ground to high levels of the atmosphere, paired with temperatures at or below freezing. This cold air keeps the snow from melting into rain. Snow can fall at intense rates during such a storm, as seen in the video.
Thundersnow is most commonly created along with lake effect snow. It's still a relatively rare event, yet such rare events can spell big trouble, such as lightning strikes.
Scientists suspect that thundersnow and thunderstorms are similar in how they make thunder and lightning. One difference is that thundersnow doesn't have as much super-cooled liquid water. Super-cooled water is what creates the electric charge that generates the lightning and thunder. Without as much of it, thundersnow events end up with an electric field that is much larger and takes longer to create.
Last winter, scientists in Huntsville, Ala., collected the largest data set during a southern snowstorm, including valuable data on thundersnow.
You can follow OurAmazingPlanet staff writer Brett Israel on Twitter: @btisrael. Follow OurAmazingPlanet for the latest in Earth science and exploration news on Twitter @OAPlanet and on Facebook.
Stay up to date on the latest science news by signing up for our Essentials newsletter.
Brett Israel was a staff writer for Live Science with a focus on environmental issues. He holds a bachelor's degree in biochemistry and molecular biology from The University of Georgia, a master's degree in journalism from New York University, and has studied doctorate-level biochemistry at Emory University.