First Named Tropical Storm of the Season Forms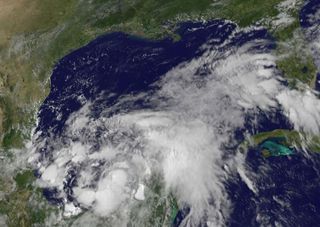 (Image credit: NASA/NOAA GOES Project.)
The first tropical storm of 2011 has formed near the Gulf of Mexico, nearly one month into the Atlantic hurricane season.
Tropical Storm Arlene is on a collision course for Mexico. The storm took its time showing up, though, becoming the first named storm (of tropical storms and hurricanes) since the Atlantic hurricane season began on June 1. But a slow start to the season is fairly typical.
"This isn't unusual at all," said Dennis Feltgen, of the National Hurricane Center. "Nothing out of the ordinary here."
Feltgen said hurricane season sees a June storm about once every two years. Warm waters fuel tropical storms, but in June, ocean temps are not as hot as they will be later in the season. That's why most storms form in August and September.
The storm is moving at 8 mph (13 kph) with winds of up to 40 mph (64 kph). Arlene is expected to strengthen today and will likely make landfall along the northeastern coast of Mexico early Thursday (June 30), according to the National Hurricane Center.
Despite the slow start, the 2011 Atlantic hurricane season has been predicted to be a doozy. The U.S. National Oceanic and Atmospheric Administration (NOAA) has predicted between six to 10 hurricanes, three to six major hurricanes (those with winds of 111 mph (179 kph) or higher) and 12 to 18 named storms.
An average Atlantic season produces 11 named storms, six hurricanes and two major hurricanes. The busiest season on record remains 2005, which saw 28 named storms, including Hurricane Katrina.
Arlene is expected to bring up to 8 inches (20 centimeters) of rain to parts of northeastern Mexico. The rains could trigger flash floods, mudslides and a strong storm surge across the coast. South Texas could also feel Arlene's force.
The eastern Pacific Ocean has already seen two hurricanes this year. Hurricane Adrian swirled from June 7 to 12, with winds of up to 140 mph (220 kph), making the storm a Category 4 on the on the Saffir-Simpson scale of hurricane strength. Hurricane Beatriz lasted from June 19 to June 22, and was a Category 1 storm with winds of up to 90 mph (150 kph).
Reach OurAmazingPlanet staff writer Brett Israel at bisrael@techmedianetwork.com. Follow him on Twitter@btisrael.
Stay up to date on the latest science news by signing up for our Essentials newsletter.
Brett Israel was a staff writer for Live Science with a focus on environmental issues. He holds a bachelor's degree in biochemistry and molecular biology from The University of Georgia, a master's degree in journalism from New York University, and has studied doctorate-level biochemistry at Emory University.