Hurricane Hunter Plane Tours East Coast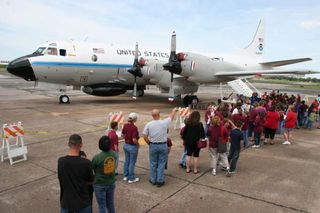 (Image credit: NOAA.)
Hurricane hunters are taking to the skies in a specially outfitted plane next week, but instead of hunting down monster storms, these scientists are on a whirlwind tour to raise public awareness ahead of the 2011 hurricane season.
Hurricane experts are scheduled to visit five East Coast cities aboard a WP-3D Orion turboprop aircraft, a hurricane research plane , on a five-day tour that begins Monday (May 2).
Dennis Feltgen, a spokesman for the National Hurricane Center in Miami, said that many in the United States got the impression that 2010 was a quiet season for hurricanes, which is far from the truth.
"We had 12 hurricanes out there last year, and absolutely none of them hit the U.S.," Feltgen said. But turn your gaze south, and the picture was very different.
"It was a really bad year," Feltgen told OurAmazingPlanet. "Ask any of our friends in Mexico or the Caribbean -- they got clobbered. And you don't know that going into the season. You have to prepare for it now."
The P-3 plane is primarily used for research missions, and operated by the National Oceanic and Atmospheric Administration (NOAA). The aircraft will make stops in Falmouth, Mass.; Patuxent River Naval Air Station, Md.; Cherry Point Marine Corps Air Station, N.C.; Savannah, Ga.; and Ft. Lauderdale, Fla., all places that could lie in a hurricane's path.
The public is invited to meet the scientists and hurricane experts, and can board the massive flying weather laboratory for a look around at the cramped conditions.
The P-3 is packed full of scientific instruments, radar and remote sensing systems, allowing scientists aboard the aircraft to collect detailed data as the plane roars through hurricanes.
The annual hurricane awareness tour has been a tradition for 30 years, and alternates between the Gulf Coast and the Atlantic Coast.
Feltgen, who will be on board the touring aircraft along with National Hurricane Center director Bill Read and several scientists, said one of the most important targets of the campaign is the younger generation.
"Those are the ones we want to get, because they'll come home to mom and dad and say, 'What's our plan?'," he said.
The official start of the hurricane season is June 1, and Feltgen said it's important to have an escape plan or, if a home is far enough from the coastline, a week's worth of food, water and medicine in place well ahead of then.
"That's not the not the kind of thing you want to be thinking about when the warning is issued," Feltgen said.
Reach Andrea Mustain at amustain@techmedianetwork.com. Follow her on Twitter @AndreaMustain.
Stay up to date on the latest science news by signing up for our Essentials newsletter.
Andrea Mustain was a staff writer for Live Science from 2010 to 2012. She holds a B.S. degree from Northwestern University and an M.S. degree in broadcast journalism from Columbia University.