Baby Gorilla Born at London Zoo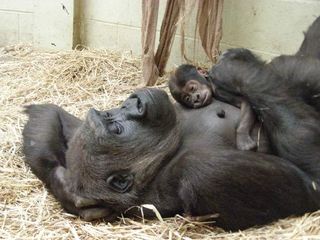 (Image credit: Iona Stewart)
On Tuesday (Oct. 26), the Zoological Society of London's London Zoo welcomed a new addition: a newborn male western lowland gorilla.
The the little bundle of gorilla joy was born to first-time mother Mjukuu on Tuesday afternoon. The labor was straightforward and closely monitored by vets and zookeepers.
"Mother and baby are both doing brilliantly, although it's still early days," said zoo director David Field. "'Aunties' Zaire and Effie were at the birth and have remained with Mjukuu throughout."
Staff at ZSL London Zoo will now begin the sensitive process of introducing the newborn to his stepfather Kesho. Introducing the baby to Kesho is not without its risks, however staff are making every effort to assist a smooth introduction and hopefully ensure the gorillas form a cohesive family group.
Keepers are yet to name the tiny male, who will grow up to become a 350-pound (160-kilogram) silverback gorilla.
Western lowland gorillas (Gorilla gorilla gorilla) are the largest living primates and are native to Cameroon, Central African Republic, Gabon, Congo and Equatorial Guinea. They are listed as critically endangered on the IUCN Red List of Endangered Species.
Stay up to date on the latest science news by signing up for our Essentials newsletter.