Hurricane Hunters Fly Through Karl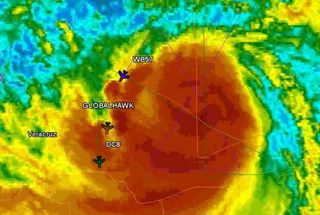 (Image credit: NASA.)
Tropical Storm Karl has grown into Hurricane Karl surprisingly quickly, and as the storm gathers strength over the Gulf of Mexico today (Sept. 16), a fleet of planes, packed with researchers and bristling with scientific instruments, is converging on the storm.
The hurricane hunters are flying into a storm with maximum sustained winds of 75 mph (120 kph) making Karl just barely a Category 1 hurricane. Hurricane watches and warnings are in effect along the Gulf coast of Mexico as Karl crosses the Bay of Campeche heading for a mainland Mexico landfall late Friday (Sept. 17) afternoon or evening.
In total, six aircraft are scheduled to soar through the hurricane this afternoon, a possible record number of planes to venture into a storm simultaneously.
"Things will get interesting in a couple hours," said Scott Braun, a research meteorologist at NASA's Goddard Space Flight Center in Greenbelt, Md., as he watched the planes appear one by one on a monitor that shows the flight paths of the aircraft heading for Karl.
NASA has three planes in the air today: a DC-8, essentially a commercial jetliner turned giant, flying laboratory; a smaller WB-57; and the Global Hawk, an unmanned drone that is en route from its home base in California. All three aircraft should get into the storm around 4 p.m. ET, along with planes from the National Oceanic and Atmospheric Administration (NOAA) and U.S. Air Force.
The space agency's planes are part of the Genesis and Rapid Intensification Processes mission, or GRIP experiment , a field study aimed at understanding why some storm systems sputter out, while others grow into monster hurricanes.
Earlier in the season, GRIP researchers flew into Hurricane Earl , which brushed the Outer Banks of North Carolina and Cape Cod.
NASA has been sending flights through Karl since its initial stages of formation, providing a data goldmine for researchers.
"It's one of the few times that we've ever had data this early in a storm's lifecycle," said Braun, a GRIP mission scientist. In addition, the storm's unexpectedly swift intensification from its depleted state as a tropical depression after crossing the Yucatan Peninsula is providing plenty of interesting fodder for researchers.
"When these things go over land, the fact that they're separated from the ocean means they're separated from their energy source," Braun said; many scientists thought the storm wouldn't turn into a hurricane after re-emerging over water until later this evening.
Instead, Karl surprised everyone when it grew into a hurricane over the course of just a few hours once it reached the ocean this morning.
"Right now it's still a minimal hurricane, but considering it just came off from land, that's pretty impressive actually," Braun said, adding the storm still has potential to grow.
Additional flights are planned for tomorrow, but if Hurricane Karl peters out, another storm could be waiting in the wings. Weather models currently show a system of clouds moving in the eastern Caribbean.
"So we'll be keeping our eyes out for that," Braun said.
Stay up to date on the latest science news by signing up for our Essentials newsletter.
Andrea Mustain was a staff writer for Live Science from 2010 to 2012. She holds a B.S. degree from Northwestern University and an M.S. degree in broadcast journalism from Columbia University.