Inauguration Forecast: Frigid (But It's Been Colder)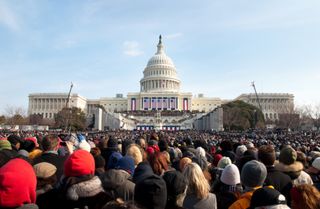 (Image credit: <a href="http://www.shutterstock.com/pic-24882211/stock-photo-washington-dc-january-a-crowd-of-warmly-dressed-onlookers-attends-the.html">Pres. Obama 2009 inauguration image</a> via Shutterstock)
Presidential inaugurations haven't exactly been known for their good weather, one predictable consequence of having the event in late January (or early March, as was the case before 1933).
On Barack Obama's first inauguration in 2009, the mercury dipped to 28 degrees Fahrenheit (minus 2 degrees Celsius). At a campaign event in September 2012, President Obama promised a Colorado voter who had been at that frigid celebration that "this one is going to be warmer," according to the AP.
It looks likely that it will be, according to AccuWeather, which predicts a low of 28 F for the day, and a high of 38 F (3 C). With winds blowing over 25 mph (40 kph) at times, however, it will feel more frigid, with wind-chill temperatures as low as about 18 F (minus 8 C) during the outdoor ceremony on the steps of the Capitol Building.
But neither of Obama's inaugurations will come close to being the coldest — that distinction goes to Ronald Reagan's second inauguration on Jan. 21, 1985. Temperatures plunged to below O F (minus 18 C) in the morning, reaching only 7 F (minus 14 C) at noon, with wind chills from minus 10 to minus 20 F (minus 23 to minus 28 C).
The warmest inauguration in history was that of Gerald Ford on Aug. 9, 1974, when it reached 89 F (32 C). His ascendency was, of course, an unusual one, coming after Richard Nixon's unprecedented resignation on the same day.
But neither the warmest nor coldest inaugurations was nearly as dramatic as that of William Henry Harrison's, which took place on March 4, 1841. Harrison rode on a horse sans coat or hat to and from the ceremony, where he gave the longest inauguration speech in history, clocking in at nearly 2 hours. As the story goes, he caught a cold that day, which eventually developed into pneumonia, and he died a month later. It seems unlikely that this is true, however; his cold didn't develop until late March, according to the White House's website.
Here are some other notable inauguration weather events, according to the National Weather Service:
· President Franklin Pierce's inauguration, 1853, on a cold and snowy day: Heavy snow led to the cancellation of his parade. Abigail Fillmore, first lady to the outgoing President Millard Fillmore, caught a cold as she sat on the wet, exposed platform during the swearing-in ceremony. She died from pneumonia a few weeks later.
· President William H. Taft's inauguration, 1909: The ceremony was forced indoors due to a storm that dropped 10 inches (25 centimeters) of snow over the capitol city, which stalled trains and left city streets clogged. Throughout the night, workers shoveled sand and snow to clear a way for the parade. It took 6,000 men and 500 wagons to clear 58,000 tons of snow and slush from the parade route.
· John F. Kennedy's inauguration on Jan. 20, 1961: On the eve of the inauguration, 8 inches (20 cm) of snow fell, leading to chaos and one of the most crippling traffic jams for its time. Hundreds of cars were marooned and thousands of cars were abandoned. At noon that day, the temperature was only 22 F (minus 6 C) and the wind was blowing from the northwest at 19 mph (31 kph) making it feel like the temperature was 7 F (minus 14 C).
Reach Douglas Main at dmain@techmedianetwork.com. Follow him on Twitter @Douglas_Main. Follow OurAmazingPlanet on Twitter @OAPlanet. We're also on Facebook and Google+.
Stay up to date on the latest science news by signing up for our Essentials newsletter.
Douglas Main loves the weird and wonderful world of science, digging into amazing Planet Earth discoveries and wacky animal findings (from marsupials mating themselves to death to zombie worms to tear-drinking butterflies) for Live Science. Follow Doug on Google+.