Loneliness Linked with Dementia Risk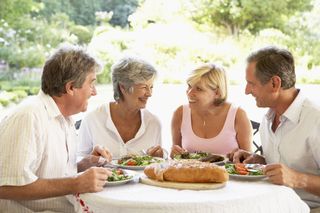 (Image credit: <a href='http://www.shutterstock.com/pic.mhtml?id=24065932'>Friends eating lunch</a> via Shutterstock)
People who feel lonely may have an increased risk of developing dementia — whether or not they are married or have social support, according to a new study from the Netherlands.
Among the older people who said they felt lonely at the study's start, 13.4 percent developed dementia over the next three years, while 5.7 percent of participants without lonely feelings developed dementia, according to the study. The findings held when researchers took into account whether participants were married, or said they were socially isolated.
"The fact that 'feeling lonely' rather than 'being alone' was associated with dementia onset suggests that it is not the objective situation, but rather the perceived absence of social attachments that increases the risk of cognitive decline," the researchers wrote in their findings, published online Monday (Dec. 10) in the Journal of Neurology Neurosurgery and Psychiatry.
However, exactly how the link may work remains unclear, according to the researchers. It could be that feelings of loneliness are a reaction to diminished thinking skills. But it could also be that those who are lonely experience a lack of stimulation, and this affects the brain systems involved in thinking, the researchers said.
In the study, researchers at Arkin Mental Health Care center in Amsterdam looked at data on nearly 2,200 people between ages 65 and 86 living in the Netherlands, who didn't have dementia at the study's start. About 1 in 5 — 433 participants — reported feeling lonely, while about 1,000 lived alone, 1,100 were not married, and nearly 1,600 said they did not have social support.
During the course of the study, lonely people were 1.64 times more likely to develop dementia than people who weren't lonely.
The researchers also found that 9.3 percent of those living alone developed dementia, whereas 5.6 percent of those living with someone else had dementia. Among those who were not or no longer married, 9.2 percent developed dementia, compared with 5.3 percent of married people.
However, a higher percentage of those who said they had social support developed dementia, compared with those who did not have social support. The researchers suggested this finding may have been due to the fact those who had social support were also more likely to have health conditions such as heart disease.
Previous studies have shown that social isolation has been linked with an increased risk of cognitive decline, and that having an extensive social network has been linked with less cognitive decline. The new study added to what was known because it separated people's feelings of loneliness from whether they were actually alone, the researchers said.
The study had several limitations, the researchers noted. For example, they did not have information on whether people's feelings of loneliness had developed recently, or were an enduring part of their personalities.
Whether the severity of people's loneliness has an effect on the development of dementia should be examined in future research, they said.
Pass it on: Feeling lonely may contribute to the development of dementia, a new study finds.
This story was provided by MyHealthNewsDaily, a sister site to LiveScience. Follow MyHealthNewsDaily on Twitter @MyHealth_MHND. We're also on Facebook & Google+.
Stay up to date on the latest science news by signing up for our Essentials newsletter.

Karen came to LiveScience in 2010, after writing for Discover and Popular Mechanics magazines, and working as a correspondent for the Journal of the National Cancer Institute. She holds an M.S. degree in science and medical journalism from Boston University, as well as an M.S. in cellular biology from Northeastern Illinois University. Prior to becoming a journalist, Karen taught science at Adlai E. Stevenson High School, in Lincolnshire, Ill. for eight years.