Sandy a Sign of Winter to Come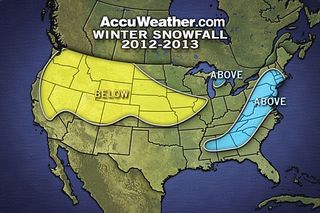 (Image credit: AccuWeather.com)
This article was provided by AccuWeather.com.
Sandy is a sign of what is to come for the East during winter of 2012-2013 with an active coastal storm track expected, AccuWeather meteorologists agree.
In reviewing the original winter forecast, meteorologists now expect more weak, fast-moving snowstorms and cold for the Midwest than previously forecast. Meteorologists originally forecast a near-normal season for lake-effect snow in the Great Lakes, but they now forecast above-normal snow for some areas.
Meanwhile, California and the Southwest may be drier than the region was initially forecast for the winter.
Sandy a Sign of What is to Come Above-normal snow is forecast for the I-95 cities, including Boston, New York City, Philadelphia and Washington, D.C., this winter with an active coastal storm track expected.
Normal Seasonal Snowfall for the Northeast
"[Sandy] gave us an idea of what can happen off the East Coast if we get phasing to take place," AccuWeather Lead Long-Range Forecaster Paul Pastelok explained. "And we also saw a couple storms, not as extreme as Sandy, but have a similar impact. So, that is a little bit of a prelude of what we think can happen."
Phasing refers to a northern branch of the jet stream meeting with the southern branch of the jet stream, allowing big storms to impact the East. Think of it as two smaller rivers merging together into one larger one.
Originally a weak El Niño, which is classified by above-normal water temperatures in the central and equatorial Pacific Ocean, was forecast. Now meteorologists expect a neutral phase of the El Niño-Southern Oscillation (ENSO) for the winter, which is characterized by near-normal water temperatures in the central and equatorial Pacific Ocean.
During a neutral phase of ENSO, there can be times when the northern branch of the jet stream is dominant across the U.S., and other times when the southern branch of the jet stream is dominant. The chance for the different branches to phase together for big storms in the East also exists.
Pastelok predicts that hotspots for rapid development of storms may be off the mid-Atlantic and New England coasts this winter due to warm water temperatures.
"I think that is something we are going to see here happen on occasion, especially in January, we feel, and maybe once in December and February," Pastelok said. "We'll have to watch for exploding, rapid development of storms at the last minute."
There are other factors that influence snowfall amounts for the winter besides the presence of storms. Enough cold air must meet with large East Coast storms for snow to fall in the I-95 corridor.
AccuWeather meteorologists expect that blocking will be in place at times during the winter. Blocking is a term that meteorologists in the Northeast use to describe areas of high pressure that dominate eastern Canada or Greenland, forcing cold air to reach the U.S.
Pastelok describes blocking as a contributor to huge East Coast snowstorms in three ways. First, blocking brings the cold air. Second, it helps to lower pressure off the Southeast coast to allow storms to form. Finally, it slows the eastward progression of storms, helping them to slow down, strengthen and dump heavier snow.
More Clippers, Cold Shots for the Midwest A higher frequency of clipper systems is expected for the northern Plains and Midwest compared to what meteorologists were expecting early in the fall.
Clipper systems are fast-moving storms, originating from Alberta, Canada, that carry little moisture. Light to moderate snow usually falls on the northern edge of the clipper system track.
Below-normal snowfall was previously forecast for eastern portions of the Dakotas, Minnesota, Wisconsin and northern Illinois. AccuWeather meteorologists now expect near-normal snow in this zone due to more frequent clippers.
Cold shots following the clipper systems will hold temperature departures down more too. With more cold crossing the Great Lakes, this change also impacts the forecast for lake-effect snow in some areas.
"With more clippers, we may see a moderate season [of lake-effect snow] predicted overall for the Great Lakes, but there could be a few areas that could be a little bit heavier off of Lake Superior and northern Lake Michigan," Pastelok said. Above-normal snow is forecast for the typical snowbelts across the Upper Peninsula of Michigan and northern portions of Lower Michigan as a result.
California, Southwest Drier Than Previously Forecast In general, the storm track across the Southwest may be more relaxed than meteorologists originally anticipated. Since precipitation amounts are expected to be lower, temperatures can be higher.
However, the potential exists for an occasional storm of significance across Southern California. Near-normal precipitation is predicted across Southern California with a few spots which may receive above-normal precipitation.
North of the storm track, it will be drier.
"San Francisco and central coast of California should expect to be drier than normal for the winter," Pastelok said.
AccuWeather.com. All rights reserved. More from AccuWeather.com.
The only sure thing about weather forecasts is that they're wildly different all over the planet. Test your knowledge on the wild ranges in temperature, precipitation and more.
Extreme Weather Facts: Quiz Yourself
Stay up to date on the latest science news by signing up for our Essentials newsletter.