Frankenstorm! Forecaster's Frightful Name for Sandy Sticks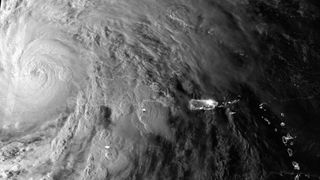 (Image credit: NOAA/NASA/GSFC/SuomiNPP)
As Hurricane Sandy heads toward the Northeast, the nicknaming of this freakish storm has begun. But what do you name a monster cyclone that is forecast to dump massive amounts of rain and snow throughout the East Coast, just in time to ruin Halloween?
Unfortunately, several large snowstorms have hit the Northeast in the last several years, taking the terms "Snowpocalypse" and "Snowmageddon."
Forecaster James Cisco, from the National Oceanographic and Atmospheric Administration's Hydrometeorological Prediction Center, (a juicy moniker, to be sure) may have accidentally coined a name that stuck in a written discussion yesterday afternoon.
The storm is likely to form a "combined gyre" or a "hybrid vortex," Cisco wrote, "inviting perhaps a ghoulish nickname for the cyclone along the lines of 'Frankenstorm,' an allusion to Mary Shelley's gothic creature of synthesized elements."
Frankenstom is catchy and seems appropriate, given the rare mix of a hurricane and a cold front that is expected to happen, and giving rise to a renewed ghoulish squall. But I'm also partial to "A More Perfect Storm," harkening as it does to the Preamble to the Constitution's "A more perfect union" (and which is obviously also the name of the first track on The Monitor, the sophomore album from New Jersey punk rock band Titus Andronicus).
Other good names I've run across are "blizzacane" and "snor'eastercane." Weather Channel hurricane specialist Bryan Norcross also described the cyclone as a "double freak," which we hope doesn't offend the cyclone's no-doubt staunch honor. "The freak part is that a hurricane happens to be in the right place in the world to get sucked into this doubled-back channel of air and pulled inland from the coast," Norcross wrote at WeatherUnderground. "And the double-freak part is that the upper level wind, instead of weakening the storm and simply absorbing the moisture — which would be annoying enough — is merging with the tropical system to create a monstrous hybrid vortex. A combination of a hurricane and a nor'easter."
The National Hurricane Center, however, will not be calling it Frankenstorm. " It will be referred to as 'Post Tropical Cyclone Sandy,'" said James Franklin, the center's branch chief, in a news conference today (Oct. 26).
'Post Tropical Cyclone Sandy' — almost as catchy as Frankenstorm.
Follow OurAmazingPlanet on Twitter @OAPlanet. We're also on Facebook and Google+.
Stay up to date on the latest science news by signing up for our Essentials newsletter.
Douglas Main loves the weird and wonderful world of science, digging into amazing Planet Earth discoveries and wacky animal findings (from marsupials mating themselves to death to zombie worms to tear-drinking butterflies) for Live Science. Follow Doug on Google+.