As Elephant Poaching Climbs, Gabon Plans to Burn Its Ivory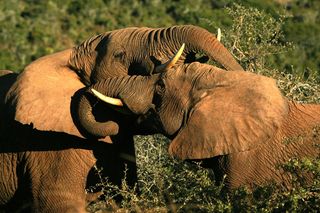 (Image credit: <a href="http://www.shutterstock.com/gallery-991505p1.html">JONATHAN PLEDGER</a> | <a href="http://www.shutterstock.com">shutterstock</a>)
With elephant poaching and seizures of illegal ivory on the rise, the Central African nation Gabon plans to burn its government-held stockpile of ivory on Thursday (June 27).
The public destruction of the ivory, which comes from the tusks of elephants that are killed to remove them, is intended to signal the nation's commitment to tackling the illegal wildlife trade, according to the World Wildlife Fund, which worked with Gabon to make sure all of the ivory was accounted for before it is destroyed.
"WWF supports Gabon's decision and sees the move as an indication of the country's commitment to curbing elephant poaching and the illegal ivory trade," Stefanie Conrad, representative of WWF's central Africa regional program office, said in a WWF statement. "Gabon has acted commendably in deciding to put such ivory beyond use."
The audited ivory stock totals 10,637 pounds (4,825 kilograms), an overall quantity that corresponds to roughly 850 dead elephants, according to the WWF.
TRAFFIC, a wildlife trade monitoring network, also assisted with the ivory audit.
"If not managed properly, ivory stockpiles in the hands of government suddenly 'get legs' and move into illegal trade," Tom Milliken, TRAFFIC's ivory trade expert, said in a WWF statement. "Gabon's actions effectively keep the ivory out of the way of temptation."
Elephant poaching is at its worst in a decade, and ivory seizures are at their highest since 1989, when international ivory trade was banned, according to a report published last week (June 21) by the Convention on International Trade in Endangered Species of Wild Fauna and Flora (CITES).
In 2011, governments reported 14 large-scale seizures, totalling an estimated 26.8 tons (24.3 metric tons) of ivory, more than in any previous year. Large-scale ivory seizures, those involving more than 1,763 pounds (800 kg) of ivory in a single transaction, typically indicate the involvement of organized crime, according to CITES.
An analysis by CITES program on Monitoring the Illegal Killing of Elephants "shows poaching to be highest where human livelihoods are most insecure and where governance and law enforcement are weakest. It also suggests that poaching is driven by demand for ivory in East Asia. The number of African elephants poached in 2011 alone could well run into the tens of thousands," said Julian Blanc, who coordinates the program in a statement issued by CITES.
There is also evidence the illegal killing of elephants has increased in Asia, but data are hard to come by, according to CITES.
Follow Wynne Parry on Twitter @Wynne_Parry or LiveScience @livescience . We're also on Facebook & Google+.
Stay up to date on the latest science news by signing up for our Essentials newsletter.
Wynne was a reporter at The Stamford Advocate. She has interned at Discover magazine and has freelanced for The New York Times and Scientific American's web site. She has a masters in journalism from Columbia University and a bachelor's degree in biology from the University of Utah.