Vitamin D Linked with Lower Risk of Deadly Prostate Cancer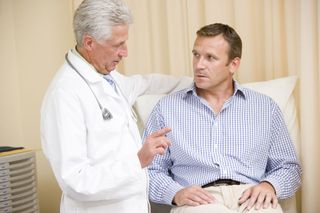 (Image credit: <a href='http://www.shutterstock.com/pic-14464564/stock-photo-doctor-giving-man-checkup-in-exam-room.html?src=2976768c8a64ea13ab7d9c765567d2e5-1-4'>Doctor's visit</a> via Shutterstock)
Vitamin D does not protect men from getting prostate cancer, but it may lessen their chances of dying of it.
In a new study, men with the highest levels of vitamin D in their blood were 57 percent less likely than men with the lowest levels to succumb to prostate cancer.
However, no link was found between vitamin D levels and having prostate cancer, the researchers said.
"Prostate cancer is a very heterogeneous disease," said study researcher Irene Shui, an epidemiologist at the Harvard School of Public Health. Some tumors progress quickly, spreading to other sites in the body and causing death, while others stay within the prostate for years and never affect a man's health or life.
It remains unclear exactly why vitamin D would lower men's risk of dying from prostate cancer if it has no influence at all on the risk of developing the cancer, Shui said. It may be that vitamin D specifically influences the cancer cells' abilities to progress to later stages of the disease and spread through the body, but not the actual initiation of the cancer, she said.
Still, the study was observational, and it does not show a cause-and-effect link between vitamin D and prevention of deadly prostate cancer.
The new findings were published in online April 12 in the Journal of the National Cancer Institute.
Vitamin D and prostate cancer
"There is abundant laboratory evidence that vitamin D may have anticancer properties," Shui said. But while studies conducted on prostate cancer cells growing in lab dishes have shown that vitamin D may thwart cancer's progression, studies in people have shown that high levels of the vitamin don't lower a man's risk of getting cancer of the prostate, the gland surrounding a man's urethra.
For their study, the researchers gathered data from men who had provided blood samples between 1993 and 1995 as part an ongoing study at Harvard University. The researchers looked at 1,260 men who had developed prostate cancer by 2004, and 1,331 men who were the same age but didn't develop the disease.
By March 2011, when the study ended, 114 of the men with prostate cancer had died. When the researchers looked at these men's levels of vitamin D, they found that 31 of them were among the men with the lowest levels of vitamin D in the study, whereas only 19 of them were among the men with the highest levels of vitamin D in the study.
However, vitamin D levels made no difference in terms of developing any prostate cancer — 310 of the men with the cancer were in the group with the lowest vitamin D levels, and 333 of the men with cancer were among those with the highest levels.
So should men try to get more vitamin D?
While the results of this study need to be replicated in future research, Shui said, vitamin D has been shown to have numerous effects on health. "Men who are concerned that they may be deficient in vitamin D should speak with their physicians about taking supplements or eating more foods rich in vitamin D," she said.
The vitamin is also produced naturally by the skin when exposed to the sun. Getting about 30 minutes of sun exposure between 10 a.m. and 3 p.m. twice a week usually leads to sufficient vitamin D synthesis, according to the National Institutes of Health.
The study was limited in that most of the participants were white. "As vitamin D deficiency is even more prevalent in men of African descent, and this population also has a higher prostate cancer risk, studies conducted in men of other ethnicities would be helpful to see of our results are generalizable to those populations," Shui said.
Pass it on: Men with the highest levels of vitamin D in a study were the least likely to die of prostate cancer.
This story was provided by MyHealthNewsDaily, a sister site to LiveScience. Follow MyHealthNewsDaily on Twitter @MyHealth_MHND. Find us on Facebook.
Stay up to date on the latest science news by signing up for our Essentials newsletter.

Karen came to LiveScience in 2010, after writing for Discover and Popular Mechanics magazines, and working as a correspondent for the Journal of the National Cancer Institute. She holds an M.S. degree in science and medical journalism from Boston University, as well as an M.S. in cellular biology from Northeastern Illinois University. Prior to becoming a journalist, Karen taught science at Adlai E. Stevenson High School, in Lincolnshire, Ill. for eight years.