Can You Really Hide from a Tornado?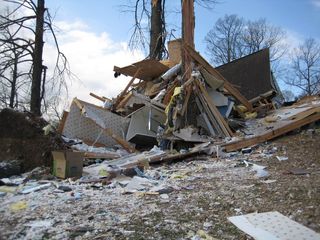 (Image credit: NWS)
This article was provided by AccuWeather.com.
In the chilling scenario that a tornado warning is issued for your area, what do the experts feel are the best choices for avoiding serious injury or loss of life?
Options range from seeking shelter in basements to interior above-ground rooms to below-ground storm shelters. However, there are pros and cons to all of these options.
Many experts agree that your odds for surviving a direct hit with a strong tornado (EF-4 or EF-5) are greatest in a nearby below-ground storm shelter.
However, since few individuals have quick access to such a structure or the funds to complete the project, there are other less expensive, close-by options such as an interior safe room within your home or work area that is located above the ground or the same setup in a basement.
Both severe weather experts and Certified Consulting Meteorologists Dr. Charles A. Doswell III and Michael R. Smith agree that risk in an above-ground safe room increases during the strongest tornadoes.
Doswell is founder and President of Doswell Scientific Consulting and is author or co-author of more than 100 formal publications, mostly related to severe storms.
Smith is Sr. Vice President/Chief Innovation Executive of AccuWeather Enterprise Solutions and author of the book "Warnings: The True Story of How Science Tamed the Weather."
Both Doswell and Smith stated that in these storms large, heavy airborne objects, like a vehicle, can be flung at a high rate of speed and can compromise the room if struck.
Fortunately, storms of this magnitude are extremely rare even in tornado-prone portions of the Plains, Midwest and South.
Both Doswell and Smith also agree that being in an open area in a basement may not provide enough protection.
According to Smith, "If a below-ground safe room was not available but a basement was present, I would head downstairs and get under sturdy furniture or a stairwell."
Doswell added, "In violent tornadoes, sometimes the floor collapses or is swept away and debris can then be thrown into the basement."
For existing homes that do not have a basement, retrofitting a small, interior room or adding a safe room above ground within a large room may be the only cost effective alternative.
Neither of these are necessarily inexpensive. If you do not have a basement and cannot afford these alternatives, you have no truly safe options and have to do the best you can by sheltering in place.
Studies have shown that when much of a home has been destroyed, often the only surviving part of the dwelling is a small interior room, such as a closet or bathroom. This has to do with more supportive wall framing versus ceiling surface area.
According to Doswell, "An above-ground safe room built to Texas Tech. specifications is not 100 percent invulnerable, but remains a very viable option to an underground shelter and offers the additional value of not having to leave your home to get to shelter."
In strong tornadoes, often the entire roof and/or upper floors are removed from the dwelling, which exposes the remaining walls to more stress and risk of failure.
Even if the interior walls remain standing, they could be penetrated by high-velocity projectiles.
An approved safe room has reinforced walls, ceiling and door.
Whether you seek refuge in a safe room or closet, there are additional precautions you can take.
According to a recent story published by The Birmingham News, gear such as a bike helmet, an infant car seat, sturdy shoes or boots and a heavy quilt or coat can offer extra protection from shards of glass, splinters and other airborne objects.
The National Weather Service has a list of items to consider when stocking your safe room or shelter.
Mobile Homes
Generally, mobile home occupants should seek safe shelter elsewhere, as a mobile home offers little protection from a tornado.
According to National Oceanic and Atmospheric Administration, the average lead time for tornado warnings is 13 minutes.
Smith, Doswell and most of the meteorological community believe this is sufficient lead time to get to safety as long as the decision to leave is carried out immediately, you know exactly where to go and the shelter is not too far away.
There are some people who do not have a means of transportation, are handicapped or simply have no place to go.
Sometimes even experienced storm chasers are fooled.
Doswell states, "Escaping a tornado in a vehicle is not recommended unless the absence of traffic and the availability of road options allow you to move quickly at right angles relative to the tornado's path."
Plan Ahead
The meteorological community including the National Weather Service and AccuWeather.com provide heads-up alerts sometimes days in advance of potential severe weather and tornado outbreaks.
However, planning ahead should not wait until the day of an expected outbreak or during the heart of the severe weather season. Tornadoes can occur at any time of the year, and any time of the day.
In the case of mobile homes, or other storm-vulnerable housing, planning ahead as far as possible is necessary in terms of constructing, locating and traveling to a safe area.
It should be the topic of community, family and workplace discussion. There may already be approved safe areas and information available within your township, school or job site.
You Can Survive a Tornado: Take Responsibility!
People should assume the worst will happen when a tornado warning is issued.
According to Smith,"People need to take responsibility for their safety. Trust the warnings. You might spend some time in a shelter unnecessarily on occasion, but the tornado warnings have become good enough that they need to be taken seriously."
According to Doswell, "If schools and workplaces have no plan (for tornadoes), people should demand that a plan be developed."
If you are building a new home, consider the addition of an approved safe room or nearby outdoor, in-ground storm shelter with adequate means of ventilation and drainage.
If you live in a mobile home park, consider approaching the owner as a group about building a storm shelter.
In light of the trend of fatalities over the years during tornado outbreaks, there have been vast improvements in public awareness thanks to advanced warnings in the public and private sector.
However, since the number of fatalities from tornadoes is still far from zero, much more improvement is needed on behalf of the public's education, practice and preventative measures.
Stay up to date on the latest science news by signing up for our Essentials newsletter.