January Brought Warmth and Extremes to the Globe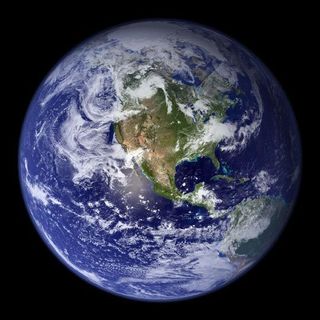 (Image credit: NASA/JPL)
This past month ranked as the 19th warmest January since global record keeping began in 1880, according to the U.S. National Oceanic and Atmospheric Administration (NOAA).
The combined land and ocean surface temperature for the month hit 54 degrees Fahrenheit (12 degrees Celsius), exceeding the average for the 20th century, the administration reported.
January 2012 was a month of weather extremes in the Northern Hemisphere. North America, northern parts of Europe and Asia, southern South America and most of Australia had warmer-than-average temperatures. Meanwhile, Alaska, China, Mongolia, Kazakhstan, south central Russia, much of the Middle East, northern India, northern Africa and southwestern Greenland experienced unusual cool.
This follows a year of warmer-than-average temperatures during 2011 for most of the world's surface. The United States experienced an unprecedented series of expensive weather-related disasters, from droughts to wildfire and a hurricane. Even so, none of these made the U.S. National Climatic Data Center's list of the top 10 weather-related events ranked by scope and unusualness. For 2011, prolonged drought in the Horn of Africa topped the list.
You can follow Live Science senior writer Wynne Parry on Twitter @Wynne_Parry. Follow Live Science for the latest in science news and discoveries on Twitter @livescience and on Facebook.
Stay up to date on the latest science news by signing up for our Essentials newsletter.
Wynne was a reporter at The Stamford Advocate. She has interned at Discover magazine and has freelanced for The New York Times and Scientific American's web site. She has a masters in journalism from Columbia University and a bachelor's degree in biology from the University of Utah.