Active 2011 Hurricane Season Comes to an End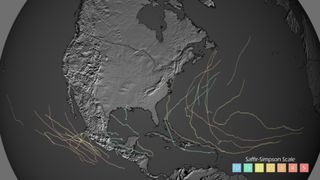 (Image credit: NOAA.)
The 2011 Atlantic hurricane season was forecast to be a doozy and it delivered.
The season officially ends tomorrow (Nov. 30) and its legacy includes 19 tropical storms, seven hurricanes and three major hurricanes — including the devastating Hurricane Irene, the only hurricane to strike the United States this year. Irene was the first U.S.-land-falling hurricane in three years. Its billion-dollar damage brought the United States back to the reality of hurricanes after years of quiet.
"Irene reminded us that the Northeast can and does get hit byhurricanes," said Jeff Weber, an atmospheric scientist at the University Corporation for Atmospheric Research in Boulder, Colo.
Active trend
The 2011 season continued a trend of active hurricane seasons that began in 1995, according to the U.S. National Oceanic and Atmospheric Administration (NOAA). Tropical storms came in with the third-highest total, at 19 (tied with 1887, 1995 and 2010), since records began, in 1851. An average season has 11 tropical storms. [See a video of the season's storms.]
The seven hurricanes and three major hurricanes (Category 3 or higher on the Saffir-Simpson Hurricane Scale) that developed this year number only slightly above the averages of six and two, respectively.
The 2011 season affected the Mid-Atlantic more than the Gulf of Mexico. Hurricane Irene, the first hurricane to hit the United States since Ike hit Texas in 2008, socked the East Coast. The storm caused $7 billion in damage and became the worst tropical cyclone to strike the Northeast since Hurricane Bob in 1991. Tropical cyclone is the generic term for tropical storms and hurricanes.
Irene inundated New York and Connecticut with water — up to 15 inches (38 centimeters) in some places. Irene was blamed for 46 deaths across 13 states.
As bad as the damage was, things could have been worse. Modern storm-tracking technology allowed NOAA forecasters to accurately map Irene's path for four days before its landfall Aug. 27, near Cape Lookout, N.C., allowing the population of the Outer Banks to evacuate. Irene was a major storm for a brief period, but it weakened to a Category 1 storm and so was not a major hurricane at landfall.
"We have now gone six years — since Wilma in 2005 — without a major hurricane making U.S. landfall," said Phil Klotzbach, an atmospheric scientist and hurricane forecaster at Colorado State University.
Few Gulf storms
Since 1878, when land-falling hurricane records begin, the 2006-2011 span is the longest stretch without a major hurricane hitting the United States, Klotzbach told OurAmazingPlanet.
While the East Coast was soaked by storms, the dearth of Gulf storms added tothe Texas drought.
One storm that did hit the Gulf was Tropical Storm Lee, which made landfall in central Louisiana. Lee spawned 38 tornadoes, the second most on record for a tropical storm. Most storms were turned away from the United States by an anomalous trough of low pressure along the East Coast, "which helped steer storms moving towards the U.S. coast back out to sea before they could make U.S. landfall," Klotzbach said.
You can follow OurAmazingPlanet staff writer Brett Israel on Twitter: @btisrael. Follow OurAmazingPlanet for the latest in Earth science and exploration news on Twitter @OAPlanet and on Facebook.
Stay up to date on the latest science news by signing up for our Essentials newsletter.
Brett Israel was a staff writer for Live Science with a focus on environmental issues. He holds a bachelor's degree in biochemistry and molecular biology from The University of Georgia, a master's degree in journalism from New York University, and has studied doctorate-level biochemistry at Emory University.