Discovering 'Warrior Wasps'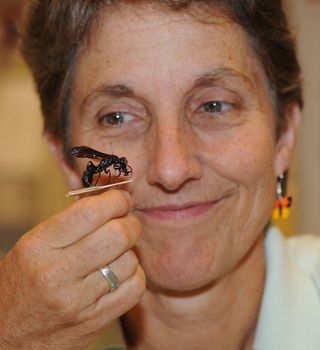 (Image credit: Photo by Kathy Keatley Garvey, UC Davis Department of Entomology)
This ScienceLives article was provided to LiveScience in partnership with the National Science Foundation.
Lynn S. Kimsey is an entomologist, and has been one for most of her life. She trained at University California, Davis, as a graduate student and joined the faculty there ten years later in 1989. Upon returning to Davis, she has been the Director of the Bohart Museum of Entomology.
Her research focuses on the systematics and biogeography of aculeate (stinging) wasps, insect biodiversity and urban entomology. Kimsey has described more than 300 new species and 12 new genera of insects during her career. In the past, she worked in Central and South America, and Australia.
Her current research is on the insect diversity in the Algodones Dunes in Southern California, and Mekongga Mountain, in southeastern Sulawesi, Indonesia. Kimsey recently discovered a new species of wasp in Sulawesi, which belongs to the genus Dalara and family Crabronidae. The male wasp measures about two-and-a-half-inches long and its jaws wrap around either side of its head when closed. It's no wonder that this new species is nicknamed the "warrior wasp." [Related: Newly Discovered Warrior Wasp Has Giant Jaws]
To learn more about Lynn Kimsey, read her answers to the ScienceLives 10 questions below.
Name: Lynn Kimsey Institution: University of California, Davis Field of Study: Entomology
What inspired you to choose this field of study?
I was given my first butterfly net at the age of five. I've pretty much had a burning passion for insects ever since, except for a brief foray into marine biology as an undergraduate.
What is the best piece of advice you ever received? As an undergraduate, early on, I was privileged to work summers for a marine biologist, Debbie Dexter, then at San Diego State University. She told me that you need to decide where you want to travel and design your research accordingly. This is from someone who got to sit on tropical beaches in her bathing suit and sift sand for the marine invertebrates that she studied. I thought, "What a deal!" Since I loved working in tropical forests, the appropriate research program made perfect sense to me.
What was your first scientific experiment as a child? Sad to say, my first experiment was probably using a hand lens to first look at insects and then experiment with burning them, about the age of five or six.
What is your favorite thing about being a researcher? Being a researcher allows me to pursue my hobby and obsession and get paid for it!
What is the most important characteristic a researcher must demonstrate in order to be an effective researcher? Burning curiosity and the need to know.
What are the societal benefits of your research?
Understanding insects, where they occur and the ecosystem services they provide, is critical for our how important insects are to us. They are our principle competitors — they feed on us and our animals, they make us sick and yet provide critical pollination, recycling and nutritional services.
Who has had the most influence on your thinking as a researcher? My major professor in graduate school, Richard M. Bohart, probably had the most influence on my research.
What about your field or being a researcher do you think would surprise people the most? I think people would be surprised at how much fun we have at our "jobs."
If you could only rescue one thing from your burning office or lab, what would it be? My external hard drive: My entire research life, my brain, is in that drive.
What music do you play most often in your lab or car? Classical or jazz.
Editor's Note:This research was supported by the National Science Foundation (NSF), the federal agency charged with funding basic research and education across all fields of science and engineering. Any opinions, findings, and conclusions or recommendations expressed in this material are those of the author and do not necessarily reflect the views of the National Science Foundation. See the ScienceLives archive.
Stay up to date on the latest science news by signing up for our Essentials newsletter.