Greenland Glacier Shows Record Losses in 2010 and 2011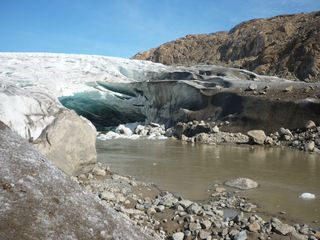 (Image credit: Edward Hanna)
Greenland's glaciers keep shrinking as higher surface temperatures have created record mass losses in 2010 and 2011, researchers announced this week.
"Our fieldwork results are a key indication of the rapid changes now being seen in and around Greenland, which are evident not just on this glacier but also on many surrounding small glaciers," study researcher Edward Hanna said in a statement. "It's clear that this is now a very dynamic environment in terms of its response and mass wastage to ongoing climate change."
A glacier's mass balance is the difference between the snow and ice it accumulates and how much of it melts and sublimates (when a solid turns directly into a gas). It is the most sensitive way of measuring climate's effects on a glacier, the researchers said. [Ice World: Gallery of Awe-Inspiring Glaciers]
Mass loss is measured using a stake stuck into the glacier. The length of stake exposed is measured at the end of the melt (ablation) season, which is around August. It is measured in meters of water equivalent, the depth of the resulting melt water.
Greenland's longest-observed glacier, Mittivakkat, showed two consecutive record losses in mass during recent melt seasons. In 2010 around 7 feet of water were lost (2.16 meters, 2 percent of the total glacier volume) and in 2011 about 8 feet (2.45 m) melted away.
The researchers didn't directly determine the cause of the mass loss, but most agree increased melting from higher surface temperatures, caused by climate change, is to blame. The water lost from the glaciers ends up in the sea, raising the sea level.
Other glaciers in Greenland show comparable glacier-edge retreats from melting, and these glaciers are similar to the Mittivakkat in size and elevation range.Therefore, the researchers believe these mass losses would be representative of the broader region, which includes many hundreds of local glaciers.
"The retreat of these small glaciers also makes the nearby Greenland Ice Sheet more vulnerable to further summer warming," Hanna said. "There could also be an effect on North Atlantic Ocean circulation and weather patterns through melting so much extra ice."
The melting of glaciers has been found, for instance, to have an impact on the gravity above the area.
The 2010 results were published in April in the journal The Cryosphere. The researchers say this year's data will be published as well, though they have yet to submit a paper.
You can follow LiveScience staff writer Jennifer Welsh on Twitter @microbelover. Follow LiveScience for the latest in science news and discoveries on Twitter @livescience and on Facebook.
Stay up to date on the latest science news by signing up for our Essentials newsletter.
Jennifer Welsh is a Connecticut-based science writer and editor and a regular contributor to Live Science. She also has several years of bench work in cancer research and anti-viral drug discovery under her belt. She has previously written for Science News, VerywellHealth, The Scientist, Discover Magazine, WIRED Science, and Business Insider.