Outside of Earth's 'shell,' SpaceX's Crew-3 reveal turtle as zero-g indicator
"We are really excited about the upcoming Turtle-takeover of the space station."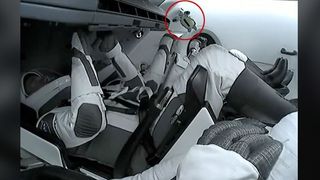 (Image credit: NASA TV)
The "turtle-takeover" of outer space has begun.
Just moments after entering Earth orbit on Wednesday (Nov. 10), SpaceX Crew-3 astronaut Kayla Barron released a sparkling sea turtle to float above her head. The "zero-g indicator," a doll used to show that she and her three crewmates' were in the microgravity environment of space, was also a signal that "The Turtles" had arrived.
"We do have a few things in store ... for representing our class in space," Barron said in a pre-flight interview with collectSPACE.com. "We are really excited about the upcoming Turtle-takeover of the space station."
Barron and her Crew-3 commander, Raja Chari, are both "Turtles," or members of NASA's 22nd class of astronauts selected in 2017. Following a long-standing tradition, the nickname was chosen by the preceding astronaut class as a good-natured rub that the 12 then-new recruits were a tad green around the collar, a bit shell-shocked at being selected and, given the effects of a hurricane at the time, faced having their new homes submerged underwater just as they arrived at the Johnson Space Center in Houston.
Related: NASA halts human moon lander work with SpaceX amid Blue Origin lawsuit
Now, as the first members of their class to launch into space, Barron and Chari were proud to let their Turtle "flag" fly.
"We have got some decorations to take along with us," Chari told collectSPACE earlier this year, possibly referencing the then-still-secret zero-g indicator. "Definitely some references to turtles that I think we'll see, once we get up."
Update: During a downlink from the Crew Dragon "Endurance," Barron introduced her and her crewmates zero-g indicator: "We want to introduce our zero-g indicator, 'Pfau' — that's German for 'peacock.' We chose Pfau to be our zero-g indicator because Raj and I are both from the class called "The Turtles," and we're excited to represent our class in space. Tom [Marshburn] is a 'Peacock,' so to get everybody on board we picked a peacock turtle — you'll notice she's peacock colored — and we named her Pfau, which is German for peacock," said Barron. "The Peacocks" was the nickname for NASA's 19th astronaut class selected in 2004. The choice of German is a nod to Crew-3's fourth member, Matthias Maurer of the European Space Agency.
The original article continues below.
The plush sea turtle appeared to be "Emerald Tara Turtle," an 11-inch-long (28-cm) doll produced by Aurora World as part of its "Sea Sparkles" line. The toy's soft shell is lined in sequins that when reversed change color from green to silver.
The doll quickly sold out online within minutes of Barron revealing it in space. Aurora World's web page describing the plush turtle was removed from its catalog, seemingly confirming the identification. A similar toy, featuring rainbow, rather than green sequins also sold out.
Related: SpaceX Inspiration4 astronauts return to Earth with historic splashdown off Florida coast
The public's interest in the Crew-3 zero-g indicator continues a trend that began with SpaceX's first flight of a Crew Dragon spacecraft to the International Space Station in 2019. The Demo-1 mission lacked astronauts on board, but launched a plush planet Earth. Celestial Buddies, the maker of the doll, was inundated with orders overnight.
Similar demand was seen for "Tremor," a sequined Apatosaurus dinosaur doll made by Ty, which flew with SpaceX's first mission to carry astronauts to and from the space station. Since then, other zero-g indicators have included a toy version of Star Wars' "Grogu" ("Baby Yoda"), a Jellycat "My First Penguin" named by its crew "GuinGuin," and a Gund-made spacesuit-clad puppy modeled after St. Jude Children's Research Hospital's facility dogs. The latter continues to sell out each time the hospital's gift shop restocks them.
The tradition of flying zero-g indicators was borrowed from the Russian space program and the world's first person to fly into space. Yuri Gagarin flew a small doll with him on his Vostok 1 mission in 1961. Later, cosmonauts launched with stuffed toys, often the choice of their children, and hung them from their spacecraft control panels.
Although likely unintended by the Crew-3 astronauts, which in addition to Barron and Chari also includes NASA astronaut Tom Marshburn and Matthias Maurer of the European Space Agency (ESA), "turtles" also holds another connotation in U.S. space history. Mercury astronaut Walter "Wally" Schirra was challenged over his membership in the Ancient Order of Turtles, a drinking club that began among World War II pilots.
"Hey, Wally, are you a turtle?" came the call from Mission Control just minutes into his 1962 Sigma 7 mission. By the rules of the Order, Schirra had to answer "You bet your sweet ass I am!" or be forced to buy drinks for everyone within earshot. Unable to say the then-off color reply over open air, Schirra recorded his answer and played it back once back on the ground.
At least one member of "The Turtles," though, recognized the connection.
"You bet your sweet astronaut they are!" tweeted Zena Cardman, responding to a Twitter post about her classmates' zero-g indicator on Wednesday night.
Follow collectSPACE.com on Facebook and on Twitter at @collectSPACE. Copyright 2021 collectSPACE.com. All rights reserved.
Stay up to date on the latest science news by signing up for our Essentials newsletter.