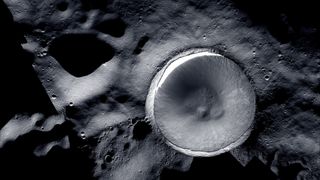 (Image credit: Mosaic by NASA, Korea Aerospace Research Institute, Arizona State University)
The lunar south pole looks haunting in a new mosaic image that uses photography from two different NASA cameras in orbit around the moon.
National Geographic, in coordination with NASA, shared a never-before-seen, high-resolution composite image of the lunar south pole with a detailed companion map of Artemis 3 candidate landing sites.
This striking image of the moon's south pole region was composed from a series of photos taken by the Lunar Reconnaissance Orbiter Camera (LROC), a network of cameras mounted on NASA's Lunar Reconnaissance Orbiter which has been circling the moon since June 2009, and ShadowCam, a NASA-funded instrument on the Korea Aerospace Research Institute's Korea Pathfinder Lunar Orbiter (KPLO). ShadowCam is 200 times more sensitive to light than previously deployed NASA lunar cameras, according to an agency statement.
Related: Scientists map 1,000 feet of hidden 'structures' deep below the dark side of the moon
Here's the official photo description per NASA and NatGeo:
"Shrouded in permanent darkness, the interior of Shackleton crater near the moon's south pole is revealed in this stunning mosaic. The crater itself was captured by ShadowCam, a NASA instrument designed to peer into the shadowy parts of the lunar surface that has been orbiting the moon for almost a year on the South Korean spacecraft Danuri. The surrounding areas were imaged by the Lunar Reconnaissance Orbiter Camera. Portions of three of the 13 potential landing regions for astronauts during Artemis 3 can be seen in this image."
Shackleton crater spans roughly 12.4 miles wide (20 km) and 2.6 miles deep (1.3 km), making it deeper than the Grand Canyon, according to the Center for Lunar Science and Exploration.

Along with the mosaic image of Shackleton Crater, National Geographic released a topographical map of the lunar south pole showing potential Artemis 3 landing sites in the region.
It seems that all eyes are fixed upon our lone satellite these days, especially with India's historic Chandrayaan-3 lunar south pole mission in the news over the past few weeks.
Back on Aug. 23, 2023, India became the first country to land a spacecraft near the moon's south pole on a $77 million mission that allowed their space program to become only the fourth in history to accomplish a soft lunar landing after the United States, the former Soviet Union and China. Following a two-week mission exploring the vicinity and conducting experiments, the Vikram lander and Pragyan rover went into sleep mode as the sun set, to be hopefully reawakened on Sept. 22.
Russia's most recent attempt at reaching the moon's south pole, meanwhile, the Luna-25 mission, ended in failure when its lander crashed into the lunar surface.
Both China and the United States want to send human crews to the moon's south pole. China has a mission planned for no earlier than 2030, while NASA plans to land a crew of astronauts near the lunar south pole no earlier than 2025 in what is planned to be the first human mission on the moon in over 50 years.
For more on this inspiring story and additional Lunar Reconnaissance Orbiter images, check out National Geographic's special "Space" issue , which came out on Sept. 19, 2023.
Originally posted on Space.com.
Stay up to date on the latest science news by signing up for our Essentials newsletter.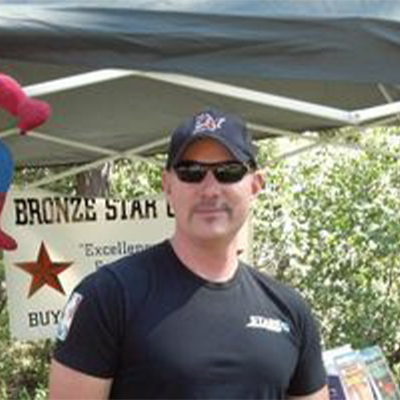 Jeff Spry is an award-winning screenwriter and veteran freelance journalist covering TV, movies, video games, books, and comics. His work has appeared at SYFY Wire, Inverse, Collider, Bleeding Cool and elsewhere. Jeff lives in beautiful Bend, Oregon amid the ponderosa pines, classic muscle cars, a crypt of collector horror comics, and two loyal English Setters.