If you're looking for a hybrid laptop and don't want to put up with their usual diminutive screen sizes, the HP Spectre x360 16 is the laptop for you. It does everything you'd expect from a 2-in-1 device and comes with a stunning 4k OLED touch screen.
Pros
+

12th Gen Intel CPU

+

OLED screen is gorgeous

+

Excellent build quality
Cons
-

Speakers are loud, but a bit muddy

-

Quite heavy for a hybrid
Why you can trust Live Science Our expert reviewers spend hours testing and comparing products and services so you can choose the best ones for you. Find out more about how we test.
If you're looking for a sleek and stylish 2-in-1 laptop with some pretty impressive specs under the hood, then the latest HP Spectre x360 16 might be the laptop for you.
While most 2-in-1 laptops tend to feature smaller screens to emphasize the portability aspect of their design, HP has gone down a different route here, providing a stunning 16-inch OLED display. The larger screen size does take the weight up a notch as you'd expect, with the laptop weighing 4.1 lbs., but that added bulk comes with a lot of other benefits besides the big screen.
This HP Spectre x360 16 laptop is packing the latest hardware with a 12th Generation Intel i7 processor, 16 GB of RAM, and a 512 GB solid state drive (SSD) as standard. On the graphics side, you get the built-in Intel Iris Xe graphics, though our review unit was upgraded with an Intel Arc A370M with 4 GB of dedicated memory - that's not going to get the latest games running on high settings, but it's enough to cover you for some gaming on lower settings.
This isn't trying to be a gaming machine though - think of the HP Spectre x360 16 as an all-rounder, a workhorse laptop with a party piece in the form of its stunning display. If you're looking for one of the best laptops for students and you favor larger screen sizes then this might be the perfect laptop for you.
The Spectre 16 is a diverse beast though. The big, beautiful screen means the Spectre is one of the best laptops for photo editing, and that combined with up-to-date hardware means it's also in our best laptops for coding guide too.
HP Spectre x360 16: Design & features
Image 1 of 2
Black or blue color options.
Distinctive diagonal edges on the back.
Quite big for a hybrid laptop.
HP laptops typically look sleek and professional, and the HP Spectre x360 16 is no exception. Depending on the exact model you choose, there are two color combinations for the outer case: Nightfall black aluminum with pale brass accents, or Nocturne blue aluminum with celestial blue accents. Our review model is the former, and we have to say it's the best looking of the pair - black and gold is an iconic color pairing, and the light brass here might as well be gold.
On the back of the laptop, you'll see the HP logo emblazoned in your accent color of choice, along with the distinctive diagonal edges which each house an extra port - a USB-C on the right and an audio jack on the left.
As the name suggests, the HP Spectre x360 16 comes with an impressive 16-inch screen which makes it one of the largest convertible laptops that we've seen. Measuring in at 14.1 x 9.7 x 0.78 inches and weighing 4.45 lbs, it's not excessively heavy, but it's certainly chunkier than most people would expect from a hybrid device. This can make it a little uncomfortable to use in tablet mode if you're using it for long periods of time.
Image 1 of 2
Beneath the screen you'll find the backlit keyboard, flanked on either side by the Bang & Olufsen speakers. It's a classic laptop keyboard layout, complete with tiny arrow keys and an absentee number pad, but it's comfortable to use and the keys have decent travel distance. Finally, there is the gargantuan track pad which dominates the lower half of the laptop base. This feels responsive and smooth to use, though we do question if it needs to be quite so large, taking up a lot of real estate that could have gone to the keyboard.
If you're looking to use the HP Spectre x360 for artistic pursuits, you'll also be pleased to know it comes with a stylus pen included. It's even magnetic, allowing you to attach it to the outside of the laptop when not in use, though we found this magnet to be a little flimsy, so we wouldn't rely on it to hold the stylus firm when you're out and about. The stylus worked well in our testing (read: our pathetic attempts to draw). It does need to be charged to use it though, which is an extra thing to worry about, and an extra charging cable to lug around with you.
In terms of security features, there is a fingerprint scanner inset into the keyboard to allow seamless unlocking while keeping your device secure. We tested the scanner and it worked fine - it let us unlock the device and kept everyone else out - what more could you want?
HP Spectre x 360 16: Specs & performance
12th Gen Intel processor.
GPU is capable of gaming at mid specs.
The HP Spectre x360 comes with a few different specifications for you to choose from. The base version of this laptop comes with a Intel Core i7-12700H processor (with integrated Intel Iris Xe graphics), 16 GB of RAM, and a 512 GB NVMe SSD. You can upgrade the CPU, add a dedicated Intel Arc A370M GPU, upgrade to 32 GB of RAM, and boost the SSD up to either 1 TB or 2 TB.
The laptop version we're reviewing here has some of these upgrades, but not all: an Intel Core i7-1260P CPU, Intel Arc A370M Graphics, 16 GB of RAM, and a 1 TB NVMe SSD. Our version also includes the stunning 3K OLED touchscreen, which we'll talk about more later.
Whether you go for the base specs, or choose to pump those numbers up a bit, the HP Spectre x360 16 is a great jack of all trades laptop that can handle all your daily tasks with ease. We didn't experience any slowdown when running multiple tabs and windows, along with other programs like Word and Excel.
The only tasks that we found the Spectre struggled with were high-end gaming, which is no surprise as this isn't a gaming machine. While you can upgrade the GPU, you're still only getting an entry-level graphics card. It should be fine for games such as Fortnite, but it's not going to run something like Cyberpunk 2077 on high settings.
HP Spectre x 360 16: Screen & speakers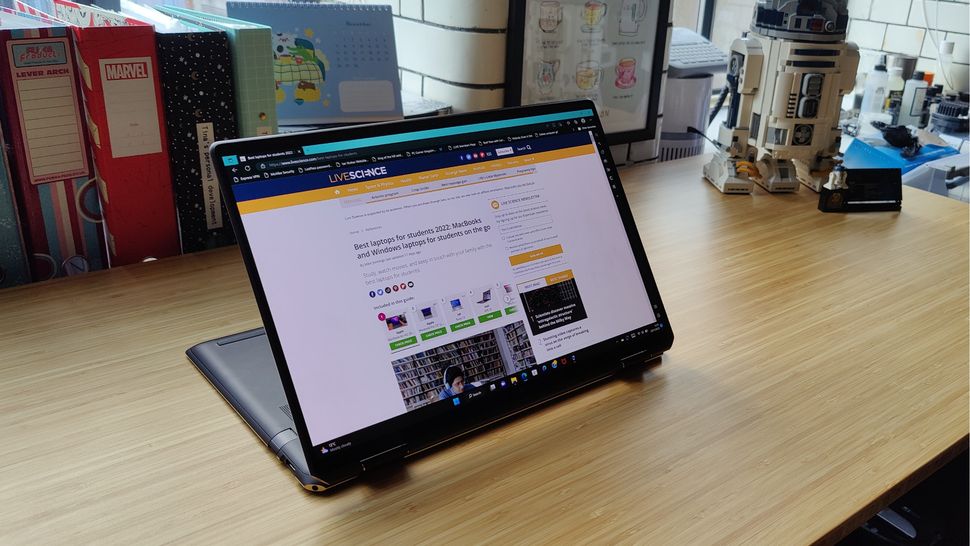 OLED display is stunning.
Responsive touchscreen.
Bang & Olufsen speakers are good for laptop speakers.
The model we reviewed here came with the top-end screen - a gorgeous 3K (3072 x 1920) OLED touchscreen. You get an ultra-wide viewing angle which means you still get crisp visuals when you're not viewing the screen dead-on. This is a nice feature if you're going to be using it to watch movies with friends, or you're moving around while watching videos in the kitchen - that kind of thing.
As we'd expect from an OLED screen, the HP Spectre x360 offers fantastic visuals with vibrant colors and great contrast. You get deep blacks, bright whites, and everything in between. The 400 nits screen is bright enough to work great during the day, meaning you'll be able to use it comfortably in almost any lighting situation - we took ours outside on a sunny day to test the screen and we had no issues seeing the display clearly.
The touchscreen functionality all works exactly as we'd hope too, with the 10-point multi-touch meaning that you can drag, pinch to zoom, and swipe across the screen with ease whether you're using the Spectre in laptop or tablet mode. You can also use the Rechargeable Tilt Pen that comes with the laptop if you want to write and draw on the screen which is perfect for creative exploits as well as note-taking and annotating diagrams.
On the audio front, we get the usual Bang & Olufsen speakers that we've come to expect from most HP laptops, with a quad-speaker set-up in this case. As laptop speakers go, they're fine. We listened to a number of songs that we usually reserve for testing headphones - namely Steely Dan's "Do It Again" which sounded decent, but some of the details did get lost.
We watched a few episodes of Andor on the Spectre and the sound quality was great there though, so maybe stick to movies on this and put your tunes on a dedicated device. The maximum volume is impressively loud, so you should be able to drown out the rest of the world while you're studying or working.
HP Spectre x 360 16: Battery life
Fast charging works great.
Battery life is decent, but not exceptional.
During our testing, we were wowed by the battery life of the HP Spectre x360 16. It generally lasted for a full day of use without needing to be recharged. We tested the Spectre with a variety of tasks including streaming videos, working on Google Docs and Sheets, and some gaming sessions. Not what you'd call intensive usage, but enough to get a feel of how it handled day-to-day tasks, and we never ran out of juice during a single day of moderate use.
However, it is a big laptop with a big, power-hungry screen, so if you really need a guaranteed all-day long battery life then you should probably look elsewhere, especially if you're going to be out and about without a charging socket nearby.
When it does need recharging, the charging cable attaches to the right side of the laptop and has a small light to let you know it's charging. There is a reasonably chunky power pack on the charging cable which might annoy some users as it's another thing to haul around. Recharging is quick though - HP states that you get up to 50% battery in 30 minutes and our own testing was in line with those claims.
Overall, the HP Spectre x360 16 performs well in a pinch when you're out and about, but it's probably better suited to being a laptop that lives on your desk, or at the very least within arms reach of a plug socket.
HP Spectre x 360 16: Price
Prices typically start at $1649.99
The entry-level model of the HP Spectre x360 16 typically starts at $1649.99 and comes with an Intel i7 processor and integrated Intel Iris Xe graphics, along with 16 GB of RAM and a 512 GB NVMe SSD for storage.
HP offers a lot of customization options of the Spectre x360 16, including upgrades to a dedicated GPU, more RAM, anti-reflection versions of the screen, and increased internal storage. You can also upgrade to Windows 11 Pro and get key software like Office and Antivirus protection bundled in at a discounted price. Finally, you can take out extended warranty protection for two or three years.
The HP Spectre x360's main rival is the MacBook Pro 16, and with prices starting at $900 less than Apple's offering, things are looking good for the Spectre. To be fair to the MacBook though, it does have far superior battery life and much brighter display (1000 nits to the Spectre's 400). Is that enough to justify the price difference? Probably not for most people. We think that the HP Spectre x360 16 offers excellent value for money compared to the competition.
Should you buy the HP Spectre x 360 16?
The HP Spectre is aiming at a bit of a niche audience, but it nails down that niche perfectly - if you want the flexibility of a hybrid laptop without sacrificing screen size then this 16-inch behemoth has you covered. It's quite bulky in tablet mode, but it's worth the sacrifice for that stunning 16-inch OLED touchscreen.
The 12th Gen Intel chip provides rock solid performance and the battery life is great too, making it a perfect workhorse laptop for a student or busy professional. The larger screen size and impressive specs also make it ideal for those interested in coding and programming too.
If this laptop isn't for you
The obvious alternative to the Spectre is the MacBook Pro 16 that we mentioned earlier. It's not cheap, with prices starting at $2499, but it's hard to deny the style and power of Apple's premium laptop offering.
If you'd rather stick with Windows and want something a little cheaper, then HP does have a smaller offering, the HP Envy x360 13. This is a 13-inch 2-in-1 laptop that comes with decent specs at a much more affordable cost, with prices starting at around $899 (and it's often on sale for less than that).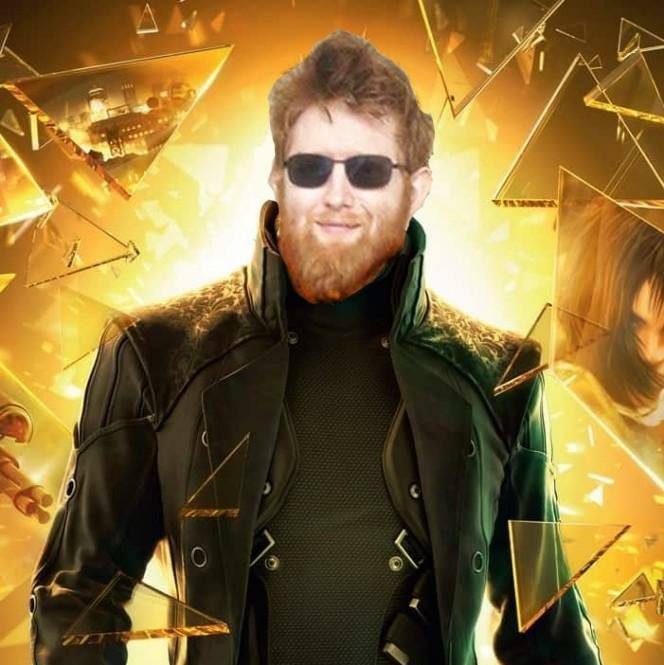 Tech & Entertainment Editor
Ian is the Tech and Entertainment Editor at Live Science & Space.com. This means he covers everything from Star Wars and the MCU through to VR headsets and Lego sets. With a degree in biology, a PhD in chemistry, and his previous role at Institute of Physics Publishing, Ian is taking a world tour through the different scientific disciplines. He's seeing how long they let him keep this profile photo.
I just want to say the biggest advantage is the 3k display and slim bezel. Thanks to the small bezel, it is rather compact compared to other 15-inch laptops even though it is 16 inches. It's a pity that the RAM is onboard, so it's not replaceable, but the performance is fine as written. It seems that heat management is also somewhat good unless it is too severe high-performance work. I don't use it well in tablet mode, but I don't think it's bad when I use it. The design is so luxurious that it is not inferior to high-end laptops. I just bought it, but I'm quite satisfied with it.

OptOnline

Reply